You guys! Don't you know that I'm the worst at tropes?!
Okay so first, I have some of my favorite tropes on my Friday Favorites post here, so feel free to look at that. I'm gonna do my best to choose totally different tropes as much as possible so it's not too much of a similar post, but we will see.
Found Families because duh (we just did a post on that one)
Enemies to Lovers to Adversaries (*cough* THIS BOOK THAT RUINED ME)
Long lost friends rekindling their friendship
Women sleuths (does that count as a trope?)
Accidental time travel (a la Kendra Donovan series)
Meet cutes? (*cough* The Flatshare was the best, ngl)
Ordinary girls that become not-so ordinary (Effigies, anyone?)
Mother-Daughter relationships (Joy Luck Club here)
Learning to deal with your grief (How the Light Gets In)
Brother-Sister positive relationships (Before I Disappear)
These totally count right?
Right?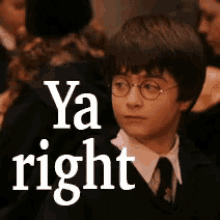 But seriously that sass in Daniel Radcliffe back in the day? So proud of that eye roll.