Title: The Seven Husbands of Evelyn Hugo
Author: Taylor Jenkins Reid
Genre: Historical Fiction
Format: Audiobook
Narrated By: Alma Cuervo, Julia Whelan, Robin Miles
Length: 12 hours, 10 minutes
Publisher: Atria Books
Publish Date: June 13, 2017
Rating:  ★  ★  ★  ★ 
Recommend: Heck Yes!
Content Disclaimers: Child Abuse, Sexual Abuse,
Underage Marriage, Marital Abuse,
Emotional & Physical Abuse, LGBTQ+ Romances,
Sex, Homophobia in Hollywood  & the US,
Civil Rights for the LGBTQ+ Community, Drunk Driving,
Death, Illness, Suicide
Thank you so much to Angharad @ Two Book Thieves for recommending me her favorite book to read! I also gave her one of my favorite books to read, and I truly hope that she enjoys it as much as I do. I liked this so much, that I'd love to do this again.
Evelyn Hugo is Cuban and the titular character. She's an enigma. Only thing that I didn't personally like was that she dyed her hair blonde and that's what seemed to make her preternaturally beautiful. She also changed her name to Evelyn Hugo, as that was not her birth name. It sounds more American or something. And yes, she had to do this on purpose. It wasn't her choice – from what she says, but I just hate that she literally had to change her identity to be famous, and it worked in her favor.
Evelyn also mentioned something about how the more her body developed, the more she had a fear in the back of her mind that her father may end up using her for himself, not just sell her off to one of his friends for better money. That… wow. That just really hurt.
Celia St. James is first seen as a "threat" to Evelyn Hugo's career because she is an amazing actress, but she ends up becoming someone so much more important to Evelyn, and I absolutely adore Celia.
Monique Grant is a biracial news reporter who was chosen to do the exclusive on Evelyn Hugo by her publicist. Basically, Evelyn only wanted to speak to her, and nobody else. She was inspired by her boss Frankie, Editor in Chief of Viveunt (I may be spelling that wrong, I listened to the audiobook) to get into journalism. Who knew that she would end up working for her inspiration?
Frankie is the Editor in Chief of magazine Viveunt. She's a black woman in charge, and that's what inspired Monique to get into journalism. We don't really see her that much because Monique and Evelyn spend all their time together working on the project, but I mention her because this is who Monique was inspired by.
Monique and Frankie have a meeting that basically goes like this:
Frankie: "Hey, Evelyn Hugo wants to give us the exclusive on whatever she has to say. The catch is she only wants to talk to you, Monique, or there's no deal. I know you're still a low level fluff piece journalist, so don't mess this up."
Monique: "Holy shit! Why does she want to talk to me? I want to do this though, so I'm gonna fake it and be more confident in myself and prove all of you that I'm gonna make this an amazing piece."
Frankie: "Good, because I think they want to manipulate you into having them control the narrative, but I think they are underestimating you."
Monique [internally]: Holy shit. I want this. I need this. I want to be the boss one day, but why the hell does Evelyn Hugo want to talk to me?
Monique: "Got it, boss."
And thus the story begins.
You have a black woman in charge, a biracial woman on her way up in the world. Females get shit done.
And then this happens in the very beginning? Like, damn. Yes, that's so true.
Monique is biracial – I said this already – and she was reminiscing about a time where her cousin called her an "oreo", and honestly I felt that. I've been called an oreo because I may look black on the outside but apparently I talk "white", and I absolutely hated that. I've been called a mutt because I'm mixed with a lot of other things, and I just felt like I was a dog that wasn't wanted. It's such a weird feeling, but I actually like that there's a main character that voices this instance happening to her because then, I know that I'm not the only one? It's a weird feeling.
Don's apology to Evelyn about what he did to her and Ruby, and how he said that he won't hurt anyone else like he did them sounded really genuine. I also like that he didn't bullshit about whether he would have really changed if the rest of his life didn't go the way it went when Evelyn called him out on it. I don't condone abuse at all, but I am glad that he actually apologized.
This whole thing is freaking breaking my heart.
Do you know how much that infuriated me? To know that she's been hit by not only one husband, but her father too? Other men that were in her life and she's learned to just accept that's the way it is and not say anything? And then to find out that this guy ended up hitting his next wife? And what hurt me too was that the two women were friends, and she said "why didn't you warn me?" And omg. That just seriously broke my heart. Why didn't Evelyn think to say something? But then again, would anyone have believed her if she brought it up?
I was just… really upset that there were some actions that both Evelyn and Celia took that ended up hurting the both of them. I know that it needed to happen in this book to show that they needed to learn how to love one another and treat one another correctly, especially in this world. It just hurt.
The double standard of what happened with Evelyn when she filmed that sex scene with [redacted]. She couldn't even get applauded for it because the nerve of having a woman enjoy sex on screen is just too taboo. That was irritating too, because it's so true, and yet duh, women like to have sex to ENJOY IT.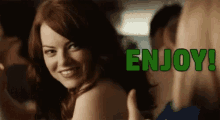 Also why did people keep trying to say that Evelyn was a lesbian when it was clear that she loved MEN as well? Ugh.
I always love having multiple narrators, and I think this one did well. I loved the shorter chapters of the news articles about Evelyn throughout the years. I loved that we heard Evelyn's point of view without it sounding like it was an actual interview. It was just… wow. I was mesmerized by this novel, and I'm really glad that I got to listen to this audiobook because that experience made it so much better.
This was a great book. I definitely think it's a good introduction into the historical fiction world, and the love story involved in here is great. It's not perfect, and it shows that both parties have to work so hard to get the life they want, and it will be worth it in the end.