Title: The Flatshare
Author: Beth O'Leary
Genre: Contemporary Romance
Format: Audiobook
Narrated By: Carrie Hope Fletcher, Kwaku Fortune
Length: 9 hours, 35 minutes
Publisher: Quercus
Publish Date: April 18, 2019
Rating: ★★★★
Recommend: Yes!
Content Warning: Abusive/Toxic Relationships, Gaslighting, Stalking,
Emotional Abuse, Near Drowning, PTSD
Thank you so much to Hannah for recommending this to me after my brain implosion from reading Golden Son. I needed something light and I think this was a perfect choice!
Tiffy Moore recently broke up with her boyfriend. For real this time, since he ended up bringing the woman he left her for back to the flat they shared. Despite all the negative things going on her life – well, really it was just her ex-boyfriend Justin kicking her out of their flat – she makes do and is still able to remain her genuine and quirky self. I really liked Tiffy as a main character, and although there were some parts that I was upset about – which I'll mention below – I see that she needed to have those kinds of aspects to her in order for us to understand her growth.
Gertie is Tiffy's best friend and a criminal attorney. She is amazing at what she does and is definitely a feminist. I love that so much about her and she is always there to tell Tiffy when she should think twice about making certain decisions that would be detrimental to her health. She really cares about Tiffy, and I feel like she is a true friend.
Rachel is Tiffy's friend and coworker at her editing job. She is also a feminist and has a lot of strong opinions about Tiffy's ex, like Gertie, but has a different way of phrasing it. I would say Gertie is the tough love friend and Rachel is the fun but also caring and outgoing friend. She is a true friend as well and I feel like having both Gertie and Rachel in Tiffy's life helps to give her some balance.
Justin doesn't even deserve to be mentioned honestly. He's a dick. He's abusive. He's controlling. He's manipulative. I hate him. He is a perfect example of what an abusive boyfriend is and you do not want him in your life.
Leon Twomey is a night nurse at a hospice and has to deal with people not allowing him to go home after his shift when he's supposed to. It's understandable that he's extremely tired when he gets off work, and I think you can even tell by the way his narration is through the book. His thoughts are short, to the point, about action. It's interesting to read about him. I felt like he was really understanding and caring about others in his life.
Kay is Leon's girlfriend. She is definitely not a good friend but that's neither here or there.
Richie is Leon's brother, who is currently incarcerated for a crime he didn't commit. He calls his brother every chance he gets, and also ends up getting to speak with Tiffy and Gertie at some points. I feel like he was a great little brother character, and did an amazing job at trying to stay positive in his situation.
So the reason why I didn't even think twice about how "unusual" the plot was is because my husband does the exact same thing whenever he's out to sea. The Navy calls it "hot racking" where up to three guys will share a "rack", meaning a bed when they are on three different shifts because there just isn't enough beds for everyone. So I just thought about that situation, and it made sense. Since they were working different schedules, they had an entire bed to themselves and had to share a living space. People have to make do with what they have, and it was a good solution.
Despite Tiffy and Leon never meeting for a long time, they are able to learn how to live "together" in their shared space and they end up becoming friends despite never meeting in person. It's really great, actually.
Seriously shout out to Rachel and Gertie for being true friends and true feminists in this book. I mean, look at this dialogue after Tiffy tells Rachel about the cruise ship sighting of Justin, the evil ex-boyfriend?
"Can you text back and tell him that comments like that are the reason womankind cares so much about their measurements? And that by declaring that 'most girls would hate that,' he is perpetuating the female body image problem, and setting women up against one another, which is one of the greatest problems feminism faces to this day?"

Rachel to Tiffy about Justin, Chapter 11
The fact that Leon is able to determine that Tiffy was in a toxic and abusive relationship with Justin before she's able to see it is noteworthy. It's because Tiffy was so traumatized by Justin and he made her feel like she was the problem and she was going crazy that she didn't even register that this wasn't how a normal relationship should be. I don't like that she was IN that relationship, but I like that Leon was able to see that and make sure his behavior made her realize that this wasn't going to be the same as what she went through.
Also I'm not always a fan of cliche happy endings, but I feel like in this case, it was perfect. It was a great ending, and I feel like it wrapped up everything perfectly.
Kay refers to Tiffy as "larger than life" to Leon when she first meets her. Leon tells us that that is Kay's code for overweight, and he doesn't like it when she does that. Well, bitch neither do I. I also don't like that Kay immediately doesn't see Tiffy as a threat to her relationship with Leon – because Tiffy is totally trying to sleep with Leon, right? Please – because she's not as attractive as Kay. Like… why do we have to already have a "beautiful" girl shit on another girl she just met for no freaking reason? I'm over girl on girl hate when there doesn't even need to be.
Justin is a prick. I mean I'm glad this was included because some people don't realize what an abusive relationship is until they see it from an outsider's perspective, but I just hated this dude. He got violent towards the end and it was really scary.
I guess I'm slowly starting to like more romance novels…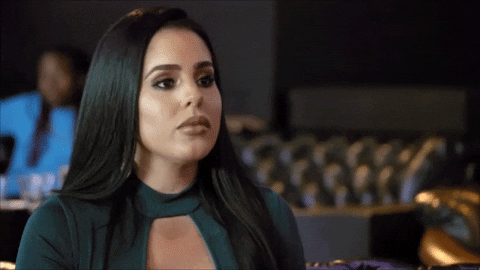 But in all honesty I thought this was a great book. I like that it wasn't in America because I don't always like to read books that take place in America. I liked the dynamics between Tiffy and Leon, Leon and Richie, Tiffy and Gertie, Tiffy and Rachel. Just having these friends in Tiffy's life stick by her through some really tough times was great to see. I loved how supportive they were and that this wasn't an insta-love type of thing. They got to know each other by paying attention to what the other would do while they were in the flat. It was just nice to see them being observant of one another's likes and habits.
I just liked it, okay? Don't @ Me.