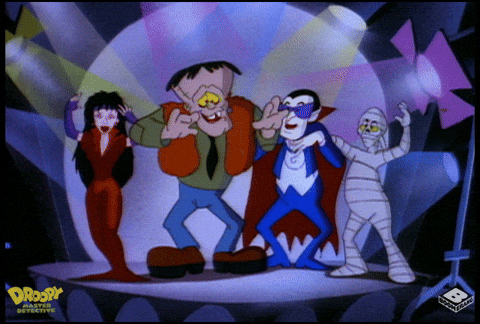 Thank you to Sam @Fictionally Sam and Clo @ Book Dragons for hosting this year's Bookending Autumn 2019 series! Click on the Bookending Fall Icon to see the announcement page.
Today's prompt is hosted by the amazing Lauren @ Northern Plunder and will be our prompt host until October 6th. I can't wait to see what else she comes up with.
Which halloween monster is your all time favorite and why? Give us some recommendations or upcoming releases you're excited about!
Well, as far as Halloween monsters, I would have to say Spiderella because I think I have been a different version of her multiple times growing up. Clearly I have a thing for her, but can't handle real life spiders so I don't know what that tells you about me.
And since I was hecking adorable when I was younger, I'm also going to show you one of my early Halloween costumes back when my grandpa was still alive, and this photo is so special to me so here you go, fam.
Now as far as Halloween monsters in books that I recommend, or want to read, it's honestly none of these. It would have to be vampires. So I'll list a little bit of vampire books I'm looking forward to reading, as well as some other monsters I love to read about!
This one is definitely a huge duh for me and I really, really need to finish the series because I need to know what the heck happens.
This is such a guilty pleasure series for meeeeee. I still need to finish this series though but you know. One day.
Another Julie Kagawa series that I still need to read!
Not vampires, but this may be the only zombie related book that I'll read.
This is going to be me all spooky season. Sorry, not sorry.