I got so lucky with this because not only am I doing a blog tour, but I also got a physical copy for the Instagram tour! This is the first time that this has happened for me before, and I'm so proud of myself for doing better and better at these tours! Thanks so much to the ladies at Fantastic Flying Book Club for continuing to believe in me for these tours. I love working with them and I love the books that they offer. Click on the banner for the rest of the tour and the links to the giveaways!
A young witch emerges from a curse to find her world upended in this gripping fantasy of betrayal, vengeance, and self-discovery set in turn-of-the-century France.
For centuries, the vineyards at Château Renard have depended on the talent of their vine witches, whose spells help create the world-renowned wine of the Chanceaux Valley. Then the skill of divining harvests fell into ruin when sorcière Elena Boureanu was blindsided by a curse. Now, after breaking the spell that confined her to the shallows of a marshland and weakened her magic, Elena is struggling to return to her former life. And the vineyard she was destined to inherit is now in the possession of a handsome stranger.
Vigneron Jean-Paul Martel naively favors science over superstition, and he certainly doesn't endorse the locals' belief in witches. But Elena knows a hex when she sees one, and the vineyard is covered in them. To stay on and help the vines recover, she'll have to hide her true identity, along with her plans for revenge against whoever stole seven winters of her life. And she won't rest until she can defy the evil powers that are still a threat to herself, Jean-Paul, and the ancient vine-witch legacy in the rolling hills of the Chanceaux Valley.
Website | Goodreads | Twitter | Instagram
Luanne G. Smith is the author of THE VINE WITCH, a fantasy novel about witches, wine, and revenge set in early 20th century France, and the forthcoming second book in the series, THE GLAMOURIST. She's lucky enough to live in Colorado at the base of the beautiful Rocky Mountains, where she enjoys reading, gardening, hiking, a glass of wine at the end of the day, and finding the magic in everyday life.
Disclaimer: I voluntarily read and reviewed an advanced copy of this book. All thoughts and opinions are my own. Thank you to Netgalley, Fantastic Flying Book Club, and 47North for this free copy. All quotes in this review are taken from the Advanced Reader Copy and may change in final publication.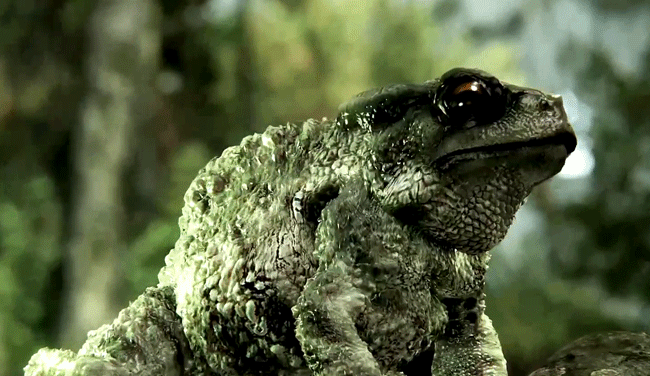 Low-key this is how we are introduced to Elena in the first chapter, and we get to witness her transformation from a toad to a woman, and only towards the end of that chapter do we realize that she actually has a name.
And she's freaking pissed.
So not only was Elena somehow cursed into a toad by some mysterious jerkhole, but she was cursed to be a toad for seven years, and by the time she makes it back to her Chateau Renard to find out that her home was sold and that some stranger named Jean-Paul Martel is the one living in it. She's out for revenge, and hopefully the person – or thing – that cursed her all those years ago is still around so she can make them pay.
I personally liked the story of Elena, and I love that she really didn't need a dude to come save her, even though she really did take a while to rescue herself she didn't just lay down to take it any longer. Her power over the vineyard around her house is one that I personally haven't seen before, and I like the idea of having power over wine. I may not be a wine drinker, but maybe if I was a vine witch, I could learn to like it.
Since I'm still not much of a romance person, rather than gushing over that part, I was more into the relationship between Elena and her "Grand-Mere". Even though they weren't related by blood, they were still family, and I honestly love those kinds of relationships in novels. It's almost like a found family, and these two women bonded and took care of one another because of their shared experiences with magic. I'm so glad that Grand-Mere was still around by the time Elena was able to break the curse. I feel like she would have been truly alone if she wasn't, and that would have been detrimental to her journey of having to re-acclimate into the world she wasn't apart of for seven years.
I haven't done a dream cast in a minute! I hope you like my choices and I can't wait to see what others come up with.
She'd felt the murderous impulse when she awoke from the curse, but the desire seethed in her veins now that her fingertips caressed the components that would make it possible.
He snuck a glance at her while he polished the lenses, and she couldn't help but notice the fine features of his face – the proud brow that tightened in thought, the geometric planes of the cheeks, and a jawline taut from firm self-confidence.
They were not truly related, yet Elena's connection to Grand-Mere often felt stronger than the bond of blood, held together by the terroir and magic of the work they did in the vineyard.
"He understood nothing about me. He knew I was a vine witch, that I had obligations of my own to uphold, that I couldn't just fulfill his every whim. I'd finally mastered my first exceptional vintage, and he expected me to set all that aside to serve his dreams."
Oh gosh this was so much fun, gentle friends! Thank you so much for joining in this journey with me. Be sure to check out my Instagram post as well! There's two giveaways that you can enter: one on the FFBC website and one on their Instagram page, so be on the lookout. If you have an opportunity to read this book, I highly recommend you try it out. It may not be a YA novel, but it was such a great ride. We gotta open our minds to books outside the YA field, you know? This was a great taste to the Adult Fantasy world.