You already know the drill.
Disclaimer: I voluntarily read and reviewed an advanced copy of this book. All thoughts and opinions are my own. Thank you to Harlequin Intrigue, Netgalley, and Juno Rushdan for this free copy. All quotes in this review are taken from the Advanced Reader Copy and may change in final publication.
The Intrigue line is one of my favorites because of how suspenseful the stories are. What makes this one even cooler is that it's Christmas themed! Can you imagine having a suspenseful Christmas season? I couldn't, but reading books like these allows me to live vicariously through the characters dealing with it. It also makes me long for the relaxation with family and loved ones that I would hope to have during the holiday seasons.
Hope Fischer is trying to find out the truth surrounding her sister's death, and she was lucky enough to be saved by Gage Graham from a near drowning. That near drowning wasn't a coincidence either, as it seems like Hope was run off the road by someone wanting to make sure that she wouldn't get anywhere near the truth. It was a close call, which made Hope even more determined to find out what happened.
"She had failed her sister once. Not again."
Gage, on the other hand, is on the run from his former employer… the CIA. Why is he on the run? And will he jeopardize his own safety for this woman that he feels compelled to help? Why do they both have these strong feelings towards one another, and what does that have to do with the case?
I thought this was a fun read, as fun as trying to solve a murder can be. Of course, with Harlequin, we will have that romance involved, which I think was a good balance between the mystery. I wanted Gage and Hope to be able to develop some sort of relationship – whether romantic or partnership – and as long as it didn't get in the way of them finding out the truth and staying alive, I was all for it. Luckily it worked out that way, and I was happy with the result. This is my first time reading Rushdan, and I believe that she did a great job with this. I'm curious to read the rest of the series and see what other kinds of suspenseful stories she will have in store for me.
Rogue Christmas Operation
by Juno Rushdan
Series: Fugitive Heroes: Topaz Unit #1
Publisher: Harlequin Intrigue
Release Date: October 26, 2021
Genre: Romantic Suspense
Length: 256 pages
He'll sacrifice his safety

…for a woman who could completely upend his Christmas.

After Gage Graham saves her from drowning, Hope Fischer revives, determined to learn the truth about her sister's death. All she has to do is infiltrate a mysterious closed Virginia town and discover why the attractive—but secretive—Gage feels compelled to help her. Can she trust him? Will he risk being discovered by his former employer, the CIA, for a woman he just met? Neither will matter if a killer succeeds.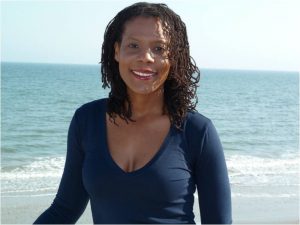 Juno Rushdan draws from real-life inspiration as a former U.S. Air Force Intelligence Officer to craft sizzling romantic thrillers. However, you won't find any classified leaks here. Her stories are pure fiction about kick-ass heroes and strong heroines fighting for their lives as well as their happily-ever-after.
Although Juno is a native New Yorker, wanderlust has taken her across the globe. Fortunately, she is blessed with a husband who shares her passion for travel, movies, and fantastic food. She's visited more than twenty different countries and has lived in England and Germany. Her favorite destination for relaxation is the Amalfi Coast, Italy for its stunning seascape, cliffside lemon groves, terraced vineyards, amazing pasta, and to-die-for vino.
When she's not writing, Juno loves spending time with her family. Exercise is not her favorite thing to do, but she squeezes some in since chocolate and red wine aren't calorie-free.

She currently resides in Virginia with her supportive hubby, two dynamic children, and spoiled rescue dogs. Check her out on Instagram, Facebook or follow her on Twitter or BookBub. She loves to connect with readers!