Underage Drug Abuse, Molestation by a friend, "Statutory" and Gang Rape, Bullying, Murder, Violence
Queer
Disclaimer: I voluntarily read and reviewed an advanced copy of this audiobook. All thoughts and opinions are my own. Thank you to Netgalley, and Flatrion Books for this free copy. All quotes in this review are taken from the Advanced Reader Copy and may change in final publication.
So this was the first audiobook ARC that I got to finish through Netgalley and I'm so excited to be able to share my thoughts with you on this! I am an audiobook fanatic, and I always love to recommend a good one when I come across them, so let's see what I thought about for this one.
This is a murder thriller story, with multiple POVs. We hear his side of the story, her side, and the murderer's side. This is one of those books where I feel like being in an audiobook format gives you the best experience of the story, although it can work out just fine reading it physically.
The interesting thing about his and her side of the story is that they are ex-spouses, but they don't know everything about one another. This is really the main reason why neither of them truly trust one another, even with them being in a long term relationship and marriage. The reasonings for why they are not together today, and for why being in Blackdown is so crucial to their past and the present mystery today was also something really intriguing to hear about. I feel like you hear more about the past from Anna than you do from Jack since it seems like Anna's past is the reason why everything that is happening today is going on around her. If anything, Jack is just the detective figure on this case and he just so happened to be Anna's ex husband and that's why he's involved. It doesn't make it less of a thriller though, and later on towards the end of the novel, you can see how Jack may have been a little bit more involved than he initially thought.
The main thing that I will say though: nothing is as it seems.
See my tweet thread of me thinking that I knew who the murderer was and still being wrong when the very ending came up and you get to hear who the true murderer is! It freaked me out so much, and wow it just blew me away. I'm not much of a thriller person – meaning I don't always read thriller novels as my go-to genres – but dang this was one of the best books that I got to listen to this year! I have already been recommending it to people who like thrillers and haven't had a chance to experience this novel yet. I still highly recommend the audiobook if that's your thing, OR if you're willing to try it out… I think you should!
The narrators for this novel were Richard Armitage and Stephanie Racine. Now… who was the narrator for the murderer? Well, I can't tell you that because I don't know either… for the most part.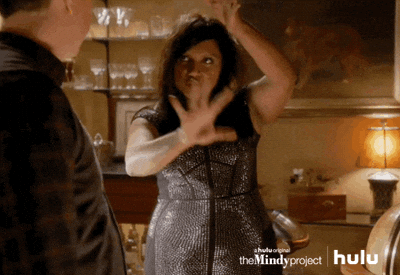 Silly gif aside, it really was a freaky way to make the murderer truly involved in this narrative. With masking the true identity of the killer, not just through the words of the story, but the way that you can't tell whether the killer is a man or a woman, young or old, anything that could be considered a cue to their identity. Making this into an audiobook makes it that much easier to really show a difference between the people telling the story and giving it that kind of thriller feel that you sometimes can't get just with text. I do feel like this novel would still be great to read physically, but I must say that listening to it was much better for me to get into the story and want to know what was going to happen next.
Even when the final chapter came along – which was a point of view as well and takes place after the main events of the story – I was still guessing who was the murderer and why everything happened the way it did. It was just absolutely amazing and I'm really happy with the choices of narrators that we have for this audiobook. The choice of narrators and how they voice a character – or multiple if it's a third person POV – really makes or break my enjoyment of an audiobook for me. Luckily, this one was a huge success.
I think the narration flow really worked well with this one, and it felt so intense. The flow of this story was well done, even with some of the moments where Anna would reminisce on what happened during her pre-teen years. Since she was just thinking about it, and it wasn't considered an official flashback – at least in my case I didn't consider them as such – those transitions made complete sense to me and I could see how Anna was thinking back on what she felt at the time, but also reflecting on what happened to her now that she is an adult and knows better. It didn't feel like there was any question on what was happening, or what point of view we were listening to during those times, which really helped me follow along with the story.
Sometimes I feel like thrillers can jump around especially when the author is trying to give the hero and the murderer / unsub similar amount of page time, but even though this murderer didn't have as many chapters as Anna and Jack, their chapters were still very much crucial to the story and had enough weight to keep up with the other two main characters. Also someone please tell me how I thought the main character's name was Richard for some reason? That's the worst mistake I've ever made.
All in all, I think that this was a great book to read, and a really great audiobook to listen to. I am so glad that Netgalley started providing audiobook arcs to us to listen to because they have been really helping me get through the books that I want to and need to read. I would definitely recommend this audiobook, and I recommend all narrators that were a part of this book. I don't know if there would ever be a sequel to this with the way that the book ended, but boy oh boy would it be interesting to see how that would go.
I've already talked about this audiobook with multiple people recommending it so I'd definitely rate this one pretty high in my book.