Yep, I think I may be on the mend. I'm back at work today. My test results for COVID-19 came back negative and while I still am not 100% feeling better with my other health issues, I still feel okay enough to come here today. It's been nice being back, even if it's only for half a day today.
So here I am also trying to get back into the groove of blogging again – you know how it is. And I'm back with another Goodreads Monday!
Thanks to Dini @ Dini Panda Reads, I'm adding Goodreads Monday to my weekly meme schedule, and I'm excited to do this one. This weekly meme was started by @Lauren's Page Turners and it invites you to pick a book from your TBR and explain why you want to read it.
Wings of Ebony
by J. Elle
Series: Wings of Ebony #1
Publisher: Denene Miller Books / Simon & Schuster Books for Young Readers
Release Date: January 26, 2021
Genre: YA Fantasy
In this riveting, keenly emotional debut fantasy, a Black teen from Houston has her world upended when she learns about her godly ancestry–and with evil sinking its claws into humans and gods alike, she'll have to unearth the magic of her true identity to save both her worlds.

Perfect for fans of Angie Thomas, Tomi Adeyemi, and The Hunger Games.
"Make a way out of no way" is just the way of life for Rue. But when her mother is shot dead on her doorstep, life for her and her younger sister changes forever. Rue's taken from her neighborhood by the father she never knew, forced to leave her little sister behind, and whisked away to Ghizon—a hidden island of magic wielders.
Rue is the only half-god, half-human there, where leaders protect their magical powers at all costs and thrive on human suffering. Miserable and desperate to see her sister on the anniversary of their mother's death, Rue breaks Ghizon's sacred Do Not Leave Law and returns to Houston, only to discover that Black kids are being forced into crime and violence. And her sister, Tasha, is in danger of falling sway to the very forces that claimed their mother's life.
Worse still, evidence mounts that the evil plaguing East Row is the same one that lurks in Ghizon—an evil that will stop at nothing until it has stolen everything from her and everyone she loves. Rue must embrace her true identity and wield the full magnitude of her ancestors' power to save her neighborhood before the gods burn it to the ground.
A Junior Library Guild Gold Standard Selection
I mean, besides the fact that this book has been hyped up for me for months now?
Come on now!
But really I've been so hyped to read this book even before I got to hear about the Street Team. I'm so excited to be able to support J. Elle in her new novel, and knowing that there's going to be a sequel makes me even more happy and ecstatic to be able to dive in to this novel! Can you believe that this comes out next month? In the new year?! Like oh my gosh! Finally something to look forward to in 2021, and some good coming out of the end of 2020. We needed something happy to think about, and this is definitely something that I want to think about!
I am telling you, there have been such an amazing outpouring of support for J. Elle and Wings of Ebony over the past couple of months, and I love it so much. It's just so full of #blackgirlmagic love and I can't wait to see how this book turns out. I actually may end up reading it over the holidays since I have an ARC of it. We will see! I'll have to set aside some time to write my review for it too, since one of my goals is to write my reviews as immediately as possible like I used to do. We'll see how that goes, and I can't wait for one of my January 2021 reviews to be Wings.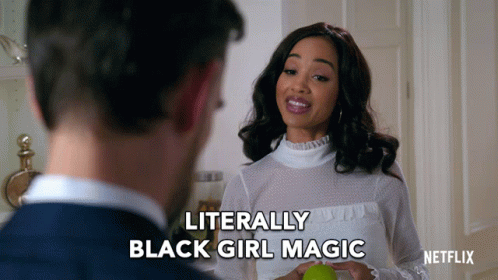 Literally. Don't sleep on some Black Girl Magic, fam.
'Nuff said.