First Lines Fridays is a weekly feature for book lovers hosted by Wandering Words. What if instead of judging a book by its cover, its author or its prestige, we judged it by its opening lines?
Pick a book off your shelf (it could be your current read or on your TBR) and open to the first page
Copy the first few lines, but don't give anything else about the book away just yet – you need to hook the reader first
Finally… reveal the book!
There is a time here called aftermath.
…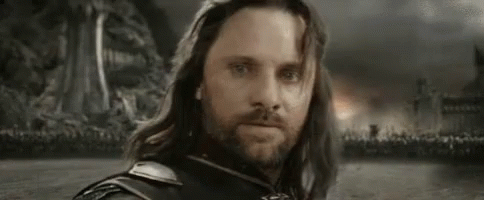 …
…
…
…
…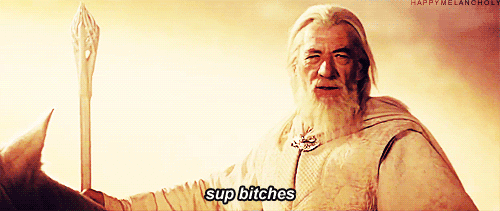 Gandalf, you silly wizard.
They say the thirst of blood is like a madness – they must sate it. Even with their own kin.

On the eve of her divining, the day she'll discover her fate, seventeen-year-old Lil and her twin sister Kizzy are captured and enslaved by the cruel Boyar Valcar, taken far away from their beloved traveller community.

Forced to work in the harsh and unwelcoming castle kitchens, Lil is comforted when she meets Mira, a fellow slave who she feels drawn to in a way she doesn't understand. But she also learns about the Dragon, a mysterious and terrifying figure of myth and legend who takes girls as gifts.

They may not have had their divining day, but the girls will still discover their fate… 
You may be wondering why I had all of the Lord of the Rings gifs instead of something that would be… more about the book. Well, that may be because as I'm writing this post, I am currently watching the extended version of The Lord of the Rings: The Fellowship of the Ring, and this is one of my favorite movies ever so… of course I had to represent.
Plus, I mean, who can complain with Gandalf the White with his awesome greeting to us.
So to keep with gifs that talk about the book a bit, here's my tribute to one of my favorite characters ever: Katherine Pierce from The Vampire Diaries. The TV show… not the book. Apparently they switched Elena's and Katherine's personalities from the book and Elena was more of the feisty one? I tried reading it after watching the show and I just couldn't wrap my head around it. I don't think I finished the first chapter unfortunately but hey, it is what it is.
I'm still in the beginning of this book, I would say. I don't think I passed the first 100 pages yet and I am finding it kind of interesting. I wouldn't say that it's moving too "slow" but I definitely need a little bit more action right now. And I'm really hoping that somehow Kizzy and Lil will be able to fully reconcile after what happened towards the beginning of the book. I feel like Kizzy is wrongfully putting her blame on Lil because that's all she has right now, and it's hurting Lil so much. It's Lil's POV that we follow, so while we don't necessarily know what is going on in Kizzy's mind, it is clear that something is clearly going on right now, besides the obvious.
And there we have it! I hope you're enjoying your Friday. Don't get too inundated with the Black Friday shopping if that's what you're up to.