War, Premarital Sex, Racism, Death, Discrimination, Rape
Japanese
It's been a very long time since I've been able to sit down at a computer and write anything – review or otherwise – and I'm hoping that I can be able to make this as coherent as I want it to be. As I intend it to be! We will see, though. More practice makes perfect, and I'll eventually get back into the groove again. Plus, I'll have to go back and catch up with the books that I read from MAY again and still haven't done those reviews. I'm thinking of doing mini reviews to catch up but we will see… again we will see.
So based on the title, I was anticipating that this novel was going to focus mainly on Emi, and her experience during WWII, and that proved to be mostly true. I didn't read the synopsis before I started listening to the audiobook so I didn't know what I was getting into, and sometimes I like to do that because I don't have an opinion or set thought process on a book and have some weird expectations. I've done that before and then the book ends up being completely different from what I anticipate and I don't know whether it ends up being better or worse. So all I knew was there was going to be a girl who was the daughter of a diplomat. At least one of her parents was going to be a diplomat and hopefully we would see her travel around to the different countries that her parent would have assignments in for their job.
home is what you make of it, even if people try to tell you otherwise.
There was a conversation between Emi and Christian while they were in the internment camp in Texas that I kept thinking about as I was listening to the story. See, Emi and her family are from Japan, and even though they moved around a lot due to her dad being a diplomat, Emi didn't really consider Japan to be her true home. At least not at the time. London was more of her home, and when she moved to Washington, DC before the bombing of Pearl Harbor, she tried her best to make America her home too. With Christian and his family, he tried to do the same since they weren't living in Germany anymore and he hadn't lived in Germany for a very long time. And yet, when the United States truly got involved in the War, Japanese and German citizens and residents were outcasts and treated as if they were the enemy. Like they were the ones that helped give information on where to strike, where their weaknesses were, how to defeat them. Of course that wasn't the case, but of course there is no reasoning with countries at war when emotions are running high and people are dying by the millions.
I'm not here to hash out history because we all know I'm no expert, and I'm not here to try to teach anyone what went on during that time, what happened in the Internment camps, both on the mainland and in Hawaii, even in Guam… that's what research is for. But I am here just to remind you that yes, this happened, and yes, so many American citizens were directly and indirectly affected by this war and were treated like they betrayed their country when they didn't… and now they had to figure out and decide how they were going to prove their loyalties. If they could even prove their loyalties when it seems like they weren't able to get the chance to without being judged by the actions of others. Despite all of this, despite everything that all of these families had to go through, despite what Emi, Christian, and others dealt with, they were able to learn to love… and live… and just be, somehow. Just survive.
sometimes the people you least expect can make a lasting impression in your life
One of the things about this novel is that Christian and Leon come into Emi's life at different times, and they aren't a part of her lives permanently. At least, not physically. Since things are never certain during times of war – even in during times of peace – Emi has no idea whether she will see Christian or Leon ever again. Whether they are even alive still. Where they are. She doesn't know much after they are separated from one another, and that's just how things are at this time. Both of them elicit some sort of strong feelings in her. She both ends up loving them at some point in her life, and even though she tries to downplay her feelings for Christian since he's younger than her, the way that she talks about him to her father shows that she clearly developed some strong feelings for him in that short amount of time being together.
I think one of the meanings behind Leon and Christian being in Emi's life at two different points of time shows some semblance of growth in Emi. There's the young love that she has with Leon, and how it almost consumed her body and soul. There was a point in time where it seemed like Emi wouldn't do anything without wanting to hear from Leon, even though there wasn't enough information to know whether he was really getting her letters since they relocated. That was more in the beginning of the novel and when the Kato family relocated to Washington, DC. While I could understand the sentimental reasons for rereading his letters over and over until the papers wear thin, reading them in the bathtub may be over-doing it. I mean, they could get wet and ruined, after all! But in all seriousness, I think it may have been good for her to let Leon go at that time, since this was a time of war, and since he hadn't been able to write back, it was better for her to move on and learn to live her life without waiting for him in case something… happened. You know.
Either way though, I think both Christian and Leon taught Emi more about herself than she thought they could. And I think that both of them made Emi realize that even though a part of her could be in love and give herself to someone else, she still needed to be her own person, and make sure that she could stand for herself and make her own decisions. The same way that she would be able to stand up to her mother during certain conversations and tough decisions, even if it seemed like it was borderline disrespectful, it was still important for her to be able to be her own person, have her own agency, and not depend on someone else to have her own happiness. In the end, she also needed to be able to depend on her own strength since others ended up depending on her to survive when her family moved back to Japan. I don't think she was anticipating that either, and she realized that maybe she was able to grow up in a way that she wasn't thinking she could either. This war changed her, just like it changed everyone else, and I do think that it made her into a person that was so much more than just a diplomat's daughter, so much more than what she thought she could ever be.
So I guess I would mostly talk about Emi here. Even though Tanabe did a great job splitting time between Emi, Leon, and Christian, I still felt like I was able to connect more with Emi than the two boys. I do think that Leon and Christian did have some sort of development though since their lives weren't stagnant whatsoever, and after their time with Emi, it seemed like they both had to somehow grow up and do things that forced them to be adults much quicker than before. I guess I mean that they didn't have the time to really reminisce on their time with Emi, and the love that they had with her and what that truly meant with them. At least, that's not what I felt. I do feel like they felt like Emi made a true impact on them, and I do feel like that was strongly the case on Christian's part. But also, since they weren't able to truly find out whether their lives would ever intertwine with Emi's again, it wasn't like they were able to really come to terms with not seeing her again, or their last communication with her truly being their last time being able to communicate with her. If that makes sense. It makes sense in my head.
Oh I definitely felt a certain type of way over this novel. For one, books that talk about Hawaii during WWII always make me feel really emotional because Hawaii is my home, and I have had family that were directly affected by WWII. Growing up in Hawaii, I've had multiple school field trips to the Arizona Memorial at the Pearl Harbor Naval Base. It's important that we always go to see why the attack on Pearl Harbor was the catalyst of the United States entering the war, and how so many people both in the military and local to Oahu were affected. I don't think there wasn't a school in Hawaii that didn't know about the 442nd at least once in their lifetime, and I know I'll never forget that number.
It wasn't until I got a little bit older, when I finally decided to read the names a little bit closer on the memorial that I saw that I had family members that died that day during the attack. I never asked my grandma about it because it wasn't something that I wanted to bring up if I didn't need to. I know that WWII was a traumatizing time for her, and learning that she and her family – and my grandpa and his family – were put in concentration camps in Guam during WWII really broke my heart. It made me not want her to have to relive that time. But the last time I talked to her before I went to the memorial again, I remembered her telling me that there was someone in the family that died at Pearl Harbor during the attack, and I wanted to see if I could find whoever it was.
I ended up finding his name.
It was such a surreal experience and it made me think about all of the people that died during that attack, and throughout the war in general. I ended up crying a little bit, and just had to stand there and really reflect on my thoughts and feelings for a few moments. I know I wasn't the only person in my class that had people there that day, or at least I don't think so, but that was the first time I realized it.
I talk about that because even though the story didn't revolve directly around the attack on Pearl Harbor, it did mention it and a lot of what happened to Emi and her family were in response to the attack. Because it was the Japanese that attacked Pearl Harbor, Emi and her family weren't allowed to have their same luxuries as before. Emi got really sick on their way to another concentration camp and their family had to be split up, and yet they still didn't trust them enough to say that the Kato family wasn't involved with the plan to bomb Pearl Harbor. So many Japanese families that had no ties to what happened in Pearl Harbor were seen as traitors and I could only imagine the kind of betrayal and hurt they must have felt with that kind of immediate shift of treatment.
This is a section that I don't normally write on, but I feel like maybe I'll start thinking about this more. Ironically, the writing style can make or break a book for me, and yet I will rarely talk about it in my reviews because it's more of a personal aspect rather than an unbiased and objective reason for why I would or wouldn't recommend a novel.
Tanabe's writing style was fine for me. It wasn't good or bad in the sense that it didn't make or break my enjoyment. Since I listened to the book this first time around, I may not have been fully paying attention to the writing style as much as listening to the inflection of Emi's narrator for the most part. Sometimes I would listen to the other narrators but again, they didn't appeal to me as much as Emi did. Joy Osmanski is one of my favorite narrators so whenever I hear her in a novel, I automatically pay closer attention.
I do want to try to physically read this though – which I'm pretty sure I said that plenty of times in this review my bad – to see if I missed any nuances that I didn't catch when I was listening to this because I do feel like there were some parts that I didn't appreciate from listening to it. From what I gather though, I do like Tanabe's writing style though, and I would like to try her other novels. I have one of her later novels that I'll be trying in the future, so we will see if that one appeals to me as well!
All in all, I believe this was a good intro to Tanabe for me. I wasn't expecting a WWII novel like this and I'm glad that I got to read this as opposed to one focusing on Europe and the Holocaust. Again, nothing wrong with that, but it's been overused and sometimes… it's just too much to get into. I liked the Kato family a lot, and Emi was a character that I was happy to get to know. I liked Tanabe as an author, and I think she did a great job with the research that she did in order to bring justice to this novel. You could see the personal influences that she added to this story as she mentioned in her author's note, and I feel like it made the story that much more special to me.
I think that people should definitely try this out, and I'm glad to try her other books.
There was only one review that I saw on WordPress but I found some on Goodreads so I added those on here. There's more that you could take a look at on Goodreads if you wish, if you look up the novel there, but of course that is up to your discretion.
And that's the first full length review that I've been able to write in months. Holy freaking cow. I'm actually really darn shocked but proud of myself. And I was somehow able to finish it during my time watching the reception desk at work while my coworker was at lunch. Shhhh, don't tell anyone. I'm actually the worst at coming up with things to write on my blog when I'm up here, but I somehow did it! I'm so freaking proud of myself so yay me.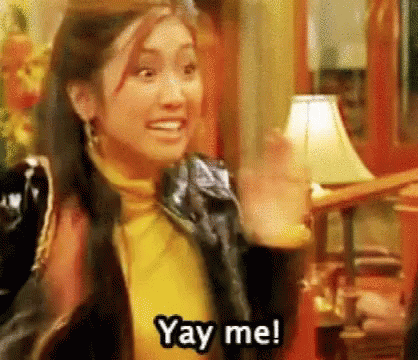 I'm slowly and surely getting back into the reviews again, and I am catching up on reviews again, so stay tuned for them. A lot of the full length reviews are going to be ARC reviews because we all know I need to catch up with those but standard reviews will definitely be diverse novels because that's my favorite to review. I don't remember when I made that shift but I definitely love that change.
If there's ever a book that you've been waiting for my thoughts on though, let me know! I may write a mini review post just for you. I don't mind that at all.
Until then, friends. See you soon.