We'll see how much effort I put into this post since I've been pretty low-energy, low-motivation, low-a lot of things lately. Either way, I'm here doing one of my favorite meme posts so enjoy it for a bit.
The Sunday Post is a weekly meme hosted by Caffeinated Book Reviewer. It's a chance to share news about the past week, reading recaps, new hauls, and more.
Wow, is there even really any progress happening with any ARCs?
No, literally nothing. Not only did my Amazon Fire end up breaking somehow – and all of the DIY fix-it instructions that I found online have not been working – but I just… can't read on my phone anymore. It's like my body is breaking down every single day. Well, it's always been but man I really wish my Fire didn't break down on me when I needed to catch up on some ARCs. I'm so tempted to buy another Fire since the Kindles are apparently not in stock until mid-November but I don't know. I wonder if there's anyone around here that can somehow fix it… or if I'm going to have to get one. Oh well.
I'll have to slowly and surely try to get through these ARCs though and raise up my ratio and stuff again. You know how it is.
I just received this novel in the mail yesterday, so I'll count this as my latest book haul. I'm trying not to buy too many books at once since I don't have that many shelf space left again, and I still need to go through my books again to see what I'd like to rehome… but anyway.
As you could probably read in the caption, I got this book not only because it was such a great read – I was lucky enough to read it for a blog tour earlier this year – but because I wanted to participate in the monthly book discussion that the American Booksellers Association is hosting for October. This coming Wednesday is the last day of discussion and I'm honestly so bummed that I didn't realize this was happening earlier or I would have gotten this and been sharing about it way earlier, but at least I can share it for some people.
Yeah, there's some really bad stuff happening right now. I don't really want to say anything since part of it isn't my news to share, and the other part, well I don't really need those details on here for now. Maybe later huh?
But anyway…
I guess there's not much more in the personal sphere that I have to share honestly since I feel like there isn't much more going on. I could say that I found out my love for Fashion Nova again. I was doing such a great job with not buying clothes for like maybe three or so years? And then I wanted to find an outfit for Halloween for work and whoop – there goes my clothes buying ban. Oh gosh, I have an addiction, it is not even funny anymore.
So this is one of the dresses that I got from Fashion Nova and I'm freaking obsessed with it! Yeah, it's short – because it's a mini dress – so I can't wear it to work or anything, and since it's very see through, I can't wear it professionally either. BUT I wore it to rep the Scarlet Gang for These Violent Delights AND the dragons in Blazewrath Games. I think it was the perfect combination and I can't freaking wait to wear this again one day.
Also, this just reinforced my resolve to get my dragon tattoo. I just don't know when my tattoo artist is going to be back working or if I should go to the other shop that my friend recommended. Still debating. But it's definitely going to happen even though those small scales are legit going to kill me.
It's been so hard for me to focus on just one thing lately, seriously. I'm honestly even surprised that I've been able to finish some books, but I'll continue to surprise myself with it. So even at work, I've been switching between so many different playlists and songs and sometimes just not even able to listen to anything at all, you know? But there is one playlist that I'll listen to when I just need to reset myself and remind myself that I can be a boss and get back to business. Sometimes it helps, sometimes it doesn't. But I love the playlist either way.
I don't know where all of these female rappers came from like all at once, but I'm digging all of it so much. And of course, Rubi Rose is one of my all time favorite rappers so far. I'm loving all of her songs right now, and Pretty MF is my favorite song out of all of the ones that I've listened to. I wish the gif gods would make some good gifs from that music video but alas, there seem to be ONE through a Google search. Definitely look it up though because LOVE.
Well I ended up finishing Kipo… and I'm really freaking heartbroken. It ended perfectly though and it was only three seasons, but oh my gosh why did it have to end?! I can't even bring myself to rewatch it because it's just so emotional.
And I haven't even been able to rewatch my faves (ATLA and LOK) lately, which hurts because I've been needing to see some bending again.
So in the meantime, I've been doing a comfort rewatch of Elementary in between trying to read these books that I've somehow committed myself to reading, you know?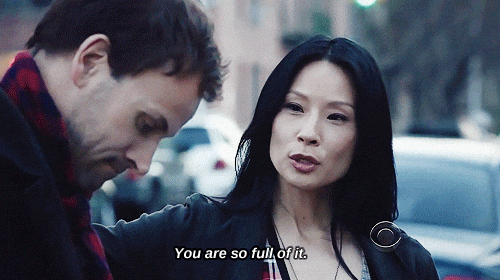 You know I love me some Lucy Liu. One of my favorite actors in the entire world, and her playing Watson has been one of my all time favorite roles of hers. This is just one of my favorite shows ever honestly, so yeah. It's a good comfort rewatch even though I still haven't finished the entire series since I refuse to acknowledge the fact that it ended.
*sigh*
Still sore. I wonder how many types of medication I can take at once before my body just says it's too much. Or I wonder if I can find some sort of working medication that will get my headaches / migraines to go away because holy cow! I'm tired of the damn pain.
I have no idea what I plan to do today. Hopefully get a little more reading done, maybe watch more Elementary… definitely lounge with the dogs some more. I actually have one of my dogs laying on my lap right now so, clearly that's a given. Now, am I going to finish a book today? Doubt it. I'm not that close to finishing any of them yet, but maybe I'll make some progress on some of them while I'm away from the computer. Maybe.
Until next week.