It looks like I'm getting back into the swing of things. And I'm really happy that I'm trying to post more. Then again, who knows if this is me just trying to avoid my calculus homework….
The Sunday Post is a weekly meme hosted by Caffeinated Book Reviewer. It's a chance to share news about the past week, reading recaps, new hauls, and more.
Before I used to break this up between my backlisted arcs, and my blog tour arcs, but honestly… yeah I still need to dedicate some time to catch up with all my arcs! It will happen though! I'm going to eventually finish them all if it's the last time that I do!
But don't ask me when, because that I can't answer.
I actually just finished an arc before I started writing this post, which just so happens to be for my next book tour post – also going up today!
Stay tuned later on today to see my post for Always Human by Ari North. If you recognize that name, it was a comic originally published on WebToons that became a physical graphic novel this year! Ari's also working on the second volume for Always Human, as well as another story! I'm really excited to see what she has in store for us, and if this graphic novel was any indication, I know that I will love whatever she has coming up next.
I'm also a little over halfway done with Legendborn by Tracy Deonn, and I just so happened to get the finished copy today! This was the first copy that I ordered from Bookshop.org, and I'm waiting for my other copy that may be signed by Tracy! I'm so excited to have this amazing story in my collection because it is another one of my absolute favorite novels this year. I've been so lucky to have read amazing books throughout this year, especially since 2020 has not been kind to all of us with the pandemic. Books like this have been a silver lining and a light in my life, and I'm so thankful for it.
Now, we aren't going to talk about the books that I've bought since the last time I did a Sunday post, because I can't even get them all into a nice looking picture right now. BUT I will mention a little hint that I was able to donate three books to the CCPL to support Sammie's diverse book drive initiative! If you haven't heard about it, I made a post about one of my favorite books Dating Makes Perfect by Pintip Dunn, and there's also Sammie's introduction post to explain what this initiative is all about.
Since I linked Sammie in this post, I won't give the names of the titles since they won't get to her by Wednesday, but I will say that I've read two out of the three, and I plan on finding the third one soon. They are also contemporary, but one could also be considered historical fiction… hmmm I wonder if that helps? Maybe, maybe not. I hope that Sammie posts an update on the books that were donated during this drive so we can check out everything that came in for the month of September!
Sammie if you're reading this, I can't wait for you to get them!
Boy oh boy, there have definitely been a lot of updates since I last posted. Some that I'm proud of and some that I'm not. If you're on Twitter, you know about everything Hear Our Voices related, so I won't rehash that here. Everything is moving forward though and I think the growth that we will make will be great to see.
In addition to that, I recently found out that I was appointed to the National Urban League of Young Professionals Advocacy Committee, something that I was nominated for a couple months ago. I'm so immensely proud of myself for this achievement, as this is something that I have been striving for since I joined the Urban League three years ago. The more that I work on my advocacy efforts, and the more that I get better at it, the more that I feel I will be able to make a difference in all of the communities that I serve. This is another step forward in that direction, and I know that all the hard work that I have been doing throughout the years will pay off in a way that will be worthwhile and rewarding to those that I want to help.
Yes, this may be yet another thing to add to my ever-growing list of responsibilities and organizations that I'm involved with, but this is a passion of mine that I would not give up for the world. I love being able to give my time and efforts into these efforts, and I only wish to be able to do more as I go on. I know I will, and I know that I will have to keep myself healthy to ensure that I keep moving forward. But I will.
I also went back to school this semester! That's been fun too, well it's been another thing to my list but I've been doing well so far. I really can't wait to finish and finally get to that finish line. It's been a long time coming, with a lot of pit stops along the way, but I'm almost there! The only thing that is irking me right now is that my group for one of my classes is not ideal. It's only been two weeks and I'm already irritated with their work ethic, which I have to just try to deal with until our group project is over. I don't want to have to do the group project by myself but I will if their lack of participation is going to negatively impact my grade. That's a hell no for me, Bob.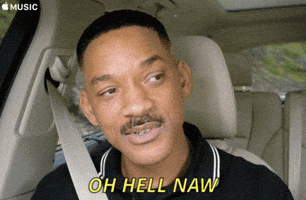 My brother and I have been learning Mandarin as well, since that's one of his classes this semester in high school. It's so fun to get back into it again, and it makes me want to get back into all of the languages that I was learning over my high school years. But since my brother and I get to practice his dialogues from class together, I am okay with sticking with Mandarin for now. This is the language that I spent the least time on in high school as well, so I want to dedicate more time to it.
Spotify has really been killing it on these playlists, as usual! There's actually one that I've been listening to at work now that I found it, and it's so darn soothing when I need to just ignore all the noise around me. Sometimes the office can get loud when there's a lot of talking, and I usually don't wear my headphones because I'm pretty sure they are noise cancelling – which is great for me but not when my phone rings lol – but sometimes I'll put it on just to reset myself and get back in the zone.
Now, the song that I've been loving so much that is totally not related to that playlist at all is I Like Him by Princess Nokia. The music video is freaking amazing – look at all those hot people – and it's definitely a whole bop. Might have to be my new theme song for when I need to boss up every now and then hehe.
I do not see you taming me
Less then there entertaining me
They just tryna pa play with me
Play with me you pay the fee
On a side note, I need the gif gods to make more gifs from this music video because it's a huge need.
Okay… do you know how freaking STOKED I was when both Avatar: The Last Airbender and The Legend of Korra got release on Netflix? I freaking died!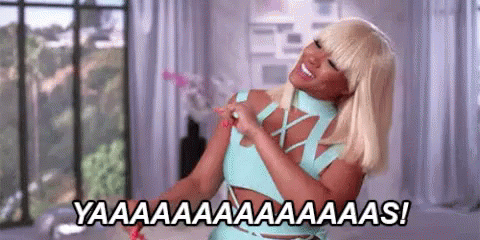 So of course I've been watching the crap out of those series. I only finished LOK once in my life, and not that long ago actually, so I'll have to really, really, really try to finish it again now that I know what happens. It's like I was scared for it to end because I knew that I was going to have the same withdrawals like I did with ATLA, and honestly no show can even top either of those for me. So those will forever be my fave no matter what, and now that I think about it, I need to buy both of those shows before they disappear.
Then I was able to actually watch a new show for me in its entirety even though I have a huge issue finishing shows at all! Have you ever watched Kipo and the Age of Wonderbeasts? Not only is the show freaking amazing, but the soundtrack is hella sick. I had to find the songs on Spotify and now I bang to them whenever I'm at work and I need another boost. Seriously, go watch that one too. They got up to Season 2, and I'm seriously hoping that they are able to release Season 3 soon-ish because I NEED to know what is going to happen next!
I have been completely sore all over lately, and it's so uncomfortable. I don't know what's happening but I hope that I'll be able to rest soon. I hope that this weekend, once I finish my Philosophy test that's due later on Sunday night, I can just read and relax or something. But then, do I even know how to relax? I have no clue!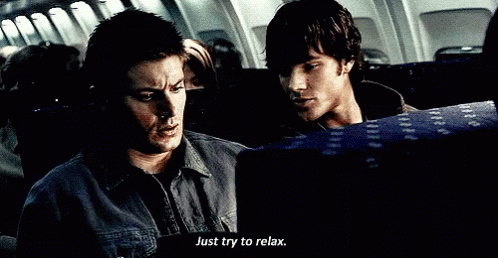 Hmm…. maybe I'll try to relax with a little Dean Winchester session? Meaning rewatching Supernatural, you pervs.
Until next week, friends. Stay thirsty.