Hey mersquad coven! (btw could you tell that I am the little piggy in this gif? So darn cute)
I hope you are all doing well. Apparently this is Labor Day weekend and I kind of forgot about it. So I guess no work or classes on Monday? Yay for those that get to observe it.
I'm finally here posting for the Hear Our Voices Tour for Always Human by Ari North. A lot of you have probably heard about Always Human because it was originally on WebToon. Now it's been published as a physical graphic novel, with more of this story coming out soon! I'm one of the people that did NOT have the pleasure of reading it the first time, so I'm so glad that I have the chance to read it now! Click on the banner to see the other hosts that participated and shared some great creative content. Be sure to give them your support and love.
First serialized on the popular app and website WebToon, Always Human ran from 2015-2017 and amassed over 76,000 unique subscribers during its run. Now reformatted for a print edition in sponsorship with GLAAD, Always Human is a beautifully drawn graphic novel about a developing relationship between two young women in a near-future, soft sci-fi setting. Always Human is drawn in a manga-influenced style and with an incredible color palette that leaps off the page!
In the near-future, people use technology to give the illusion of all kinds of body modifications—but some people have "Egan's Syndrome," a highly sensitive immune system that rejects these "mods" and are unable to use them. Those who are affected maintain a "natural" appearance, reliant on cosmetics and hair dye at most to help them play with their looks.
Sunati is attracted toAusten the first time she sees her and is drawn to what she assumes is Austen's bravery and confidence to live life unmodded. When Sunati learns the truth, she's still attracted to Austen and asks her on a date. Gradually, their relationship unfolds as they deal with friends, family, and the emotional conflicts that come with every romance. Together, they will learn and grow in a story that reminds us no matter how technology evolves, we will remain . . . always human.
Rendered in beautiful detail and an extraordinary color palette, Always Human is a sweet love story told in a gentle sci-fi setting by a queer woman cartoonist, Ari North.
Ari North is a queer cartoonist who believes an entertaining story should also be full of diversity and inclusion. As a writer, an artist, and a musician, she wrote, drew, and composed the music for Always Human, a complete romance/sci-fi webcomic about two queer girls navigating maturity and finding happiness. She's currently working on a second webcomic, Aerial Magic, which is about the everyday lives of the witches who work at a broomstick repair shop. She lives in Australia with her husband.
Disclaimer: I voluntarily read and reviewed an advanced copy of this book. All thoughts and opinions are my own. Thank you to Hear Our Voices Book Tours and Little Bee Books for this free copy. All quotes in this review are taken from the Advanced Reader Copy and may change in final publication.
I still need to write my full review actually! So stay tuned for that on Goodreads, and maybe on my blog too. For today, You'll get my visual only review and hopefully you get to see just what I thought about this book.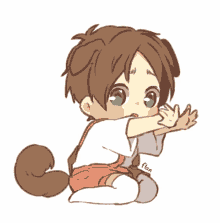 I made a little spread to show just a little snippet of how I felt about this book, and wow it was one of the cutest graphic novels that I read in such a long time. I know my journal spreads are still pretty basic, but I like how I made it. I'm still learning and finding my type of spreads but I think it shows me and what I like. Or at least it reflects me in a crafty way?
Oh that was fun! I don't know what took me so long to do this, since I was having such a hard time trying to make this good. It could be also other things honestly, but hopefully I have some good news about that because it's actually concerning me… anyway! I hope you enjoyed this post, and I can't wait to see everyone's thoughts on this graphic novel!