When I found out that I got accepted for the blog tour for this book, you could hear my screams of joy from miles away, like no joke. I was so freaking happy. I remember getting this book from Tor Teen (thank you so much! I love getting ARCs from Tor as they are one of my favorite publishers ever and I have been extremely pleased with all of the books I've received from them) and I have been dying to read and review this book for months now. This gave me the opportunity to finally push this up to the top of my pile and now I finally get to share my thoughts!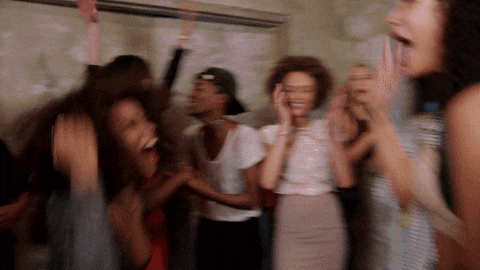 Thank you so much to Jean Book Nerd for including me on this tour and for hosting this blog tour! Click on the banner above for the rest of the schedule and for more information.
Tavia is already at odds with the world, forced to keep her siren identity under wraps in a society that wants to keep her kind under lock and key. Never mind she's also stuck in Portland, Oregon, a city with only a handful of black folk and even fewer of those with magical powers. At least she has her bestie Effie by her side as they tackle high school drama, family secrets, and unrequited crushes.
But everything changes in the aftermath of a siren murder trial that rocks the nation; the girls' favorite Internet fashion icon reveals she's also a siren, and the news rips through their community. Tensions escalate when Effie starts being haunted by demons from her past, and Tavia accidentally lets out her magical voice during a police stop. No secret seems safe anymore—soon Portland won't be either.
Bethany C. Morrow is a recovering expat splitting her time between Montreal, Quebec, and upstate New York – yet another foreign place. A California native, Bethany graduated from the University of California, Santa Cruz with a BA in Sociology (but took notable detours in the Film and Theatre departments). Following undergrad, she studied Clinical Psychological Research at the University of Wales, Bangor, in Great Britain before returning to North America to focus on her literary work.
Though sociology and forensic psychology will always be among her passions, writing has been a lifelong endeavor. Whether in novels for the YA or adult market, novellas, short stories, stage plays, television pilots or short film scripts, Bethany's speculative literary fiction uses a focus on character and language to engage with, comment on and investigate worlds not unlike our own.
Disclaimer: I voluntarily read and reviewed an advanced copy of this book. All thoughts and opinions are my own. Thank you to Jean Book Nerd, Netgalley, and Tor Teen for this free copy. All quotes in this review are taken from the Advanced Reader Copy and may change in final publication.
Do you know how eerie this book is? It starts off with a murder trial for the killing of a woman named Rhoda Taylor, who was killed by her boyfriend. Before, nobody was saying her name. She was a Black woman. Nobody was saying her name. Nobody was giving credence to her murder until a photo came out of her that made it seem like she was a Siren, and that's what made people start to care. And the only reason why people started to care was because people around the world do NOT like Sirens. In fact, Sirens are the only supernatural creatures that have a device – called a silencing collar – to negate the effects of their Siren call. No other supernatural creatures have a government created device, no other supernatural creatures are feared across the board. No other supernatural creatures are deemed justified to be killed solely because of what they are.
Now, doesn't this sound familiar?
Immediately starting this book, I was getting chills, and I was tearing up because not only were Sirens always Black women, but they were always persecuted by the public and Tavia (understandably) has to hide the fact that she is a Siren because she would ostracized by her classmates and more. Her own father hates Sirens, and it shows in how he treats his own daughter, and it breaks my heart. He knew that there was an opportunity that he would have a Siren if he had a daughter, since his mother was a Siren, and rather than allow his mother and his daughter to have a relationship and give them an opportunity to bond and Tavia to learn what it means to be a Siren, he kept them apart out of spite.
It got to the point that 11 year old Tavia tried to take her Siren voice out herself – which almost had disastrous consequences and long lasting scars in her life. Thank goodness for Effie, Tavia's "play" sister, who has her own reasons for why she is living with Tavia and the Philips in Oregon. Even though they are not blood sisters, I feel like Tavia and Effie have the kind of sisterhood that is absolutely great and they have learned how to understand one another and really love one another in a world that is already set against them as Black women.
In addition, Effie doesn't yet know what she is supernaturally, but she is able to escape from the anxieties of real life during the Renaissance Faire every year when she turned into Euphemia the Mer. It's clear that when she dons her mermaid tail and she's in the water, she is really in her element. And her story with Elric the Smith's son, it's magical and wonderful. With the sudden changes that Tavia sees on Effie one day when Effie blacked out after visiting her mother's grave, the answer to what she is may come out this year, and hopefully it is something that she has known all along.
I feel like this was a really emotional read for me. There were a lot of quotes in this book that I had to take note of because I had to just stop and digest it. As a Black woman myself, I felt them in my heart and soul, and even though I'm not a Siren (if only I was, honestly), I know what it's like to be on the receiving end of those micro-aggressions on the daily. It's tiring and exhausting and I'm still trying to be proud to be Black. I wish I could be like Tavia and Effie and just be proud to be in my own skin, and even sometimes Tavia and Effie aren't. They are still learning how to use their voices and be strong, and I feel like this book shows their journey on how they learned how to do this, both together and apart.