Hey mersquad coven! Here's another FFBC blog tour post for you, and I hope you enjoy today's post. Thank you to the FFBC team for having me on this tour. Be sure to click on the banner for the full tour schedule and to see more information. You know the drill by now, right?
Bestselling authors Margaret Stohl and Melissa de la Cruz bring us a romantic retelling of Little Women starring Jo March and her best friend, the boy next door, Theodore "Laurie" Laurence.
1869, Concord, Massachusetts: After the publication of her first novel, Jo March is shocked to discover her book of scribbles has become a bestseller, and her publisher and fans demand a sequel. While pressured into coming up with a story, she goes to New York with her dear friend Laurie for a week of inspiration—museums, operas, and even a once-in-a-lifetime reading by Charles Dickens himself!
But Laurie has romance on his mind, and despite her growing feelings, Jo's desire to remain independent leads her to turn down his heartfelt marriage proposal and sends the poor boy off to college heartbroken. When Laurie returns to Concord with a sophisticated new girlfriend, will Jo finally communicate her true heart's desire or lose the love of her life forever?
She is the New York Times and USA Today best-selling author of many critically acclaimed and award-winning novels for teens including The Au Pairs series, the Blue Bloods series, the Ashleys series, the Angels on Sunset Boulevard series and the semi-autobiographical novel Fresh off the Boat.
Her books for adults include the novel Cat's Meow, the anthology Girls Who Like Boys Who Like Boys and the tongue-in-chic handbooks How to Become Famous in Two Weeks or Less and The Fashionista Files: Adventures in Four-inch heels and Faux-Pas.
She has worked as a fashion and beauty editor and has written for many publications including The New York Times, Marie Claire, Harper's Bazaar, Glamour, Cosmopolitan, Allure, The San Francisco Chronicle, McSweeney's, Teen Vogue, CosmoGirl! and Seventeen. She has also appeared as an expert on fashion, trends and fame for CNN, E! and FoxNews.
Melissa grew up in Manila and moved to San Francisco with her family, where she graduated high school salutatorian from The Convent of the Sacred Heart. She majored in art history and English at Columbia University (and minored in nightclubs and shopping!).
She now divides her time between New York and Los Angeles, where she lives in the Hollywood Hills with her husband and daughter.
She is a #1 New York Times bestselling nerd, world-builder, video game creator, comic book writer and festival founder.
As an award-winning young adult author, she has been published in fifty countries and thirty-two languages and has sold more than ten million books worldwide. Beautiful Creatures debuted as the Amazon #1 Teen book of the year; seven of Margaret's books have reached bestseller lists around the world.
She has published fifteen novels and graphic novels, as well as contributed to several games and countless comics since her debut. Her last book, Cats Vs Robots: This is War, was a family affair, illustrated by her child, the artist Kay Peterson, and co-written with her husband, Lewis Peterson. It also starred three of her family's five cats.
After Beautiful Creatures was released as a feature film from Warner Brothers and Alcon Entertainment, Margaret began working with Marvel on her bestselling Black Widow: Forever Red duology; in 2017 she began writing the ongoing Mighty Captain Marvel comic, followed by the acclaimed Life of Captain Marvel miniseries, where she established a new origin story for Carol Danvers in preparation for the theatrical debut of Brie Larson as "Captain Marvel" for the MCU.
When not roaming the halls of Seattle game developer Bungie – where she oversees the creation of new global IPs – Margaret can often be seen at a Comicon or at one of the teen and youth book festivals she co-founded, YALLFEST (Charleston, SC) and YALLWEST (Santa Monica, CA), the largest in the country. Wherever she goes, you can find out more about her (and invariably her cats) at @mstohl on twitter or margaret_stohl on instagram or margaret_stohl on snapchat or at mstohl.com.
Disclaimer: I voluntarily read and reviewed an advanced copy of this book. All thoughts and opinions are my own. Thank you to Fantastic Flying Book Club, Netgalley, and G.P. Putnam's Sons Books for Young Readers for this free copy. All quotes in this review are taken from the Advanced Reader Copy and may change in final publication.
I personally haven't read or watched Little Women, and I know that so many people love that story so I was curious to know what people thought of this retelling. Although I feel like this was more of a continuation rather than a retelling since it seemed like it went further than what happened in Little Women, but then again since I didn't read the original, I wouldn't know for sure!
As someone who doesn't have any background information on the original source material, I felt like this was an interesting story. I think I fall under the majority of people when I say that Meg was my overall favorite character compared to our main character Jo, even though Meg wasn't the main focus. And I guess since most people were pretty disappointed with how the original story ended between Jo and Laurie, this kind of gave them the closure that they were looking for. As for me, I guess either way would have been fine for me.
I did also read that since the original ending was giving autonomy to Jo for keeping her single and having Jo and Laurie as just friends, this book did some sort of injustice to the original author's wishes, and I could see that too. In essence, this book could be seen as some sort of fan-fiction to those that wanted to see Jo and Laurie have some sort of romantic relationship that they would have never seen. Kind of like how people wanted Zutara to happen, when the end game was always going to be Kataang.
So I guess I'm pretty in the middle with this. I will say that I've always been a fan of de la Cruz's writing, so I didn't have a problem with the prose itself. It was definitely really interesting to see de la Cruz and Stohl partner up for this one. My only experience with Stohl was for Beautiful Creatures, and that was a partnership novel as well, so I don't think I've had the pleasure of reading Stohl's work alone. But I feel like their voices just meshed well together in this novel and it seemed to do well here.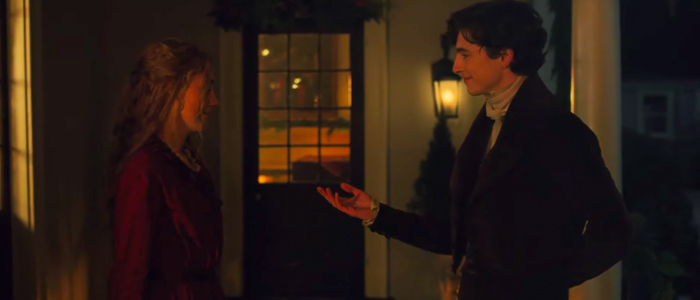 I'll just use the movie actors for them right now since that's the only reference that I can think of. Is that being lazy? Nahhh.
And have a great day, fam!