Okay these headaches and stomachaches are not going away. I know the doctor said that they won't go away that quickly but it's seriously making it hard to even sit and do anything anymore. I don't even know how I'm supposed to go back to work (at home but still) tomorrow and do these meetings. Honestly, I may have to see if I can see my doctor about it, but I don't want to have to take the doctors away from taking care of more important patients during this time. But I hate being in pain the entire time I'm awake. Ugh. This sucks, fam.
My whole world changed when I stepped inside the academy. Nothing is right about this place or the other students in it. Here I am, a mere mortal among gods…or monsters. I still can't decide which of these warring factions I belong to, if I belong at all. I only know the one thing that unites them is their hatred of me.
Then there's Jaxon Vega. A vampire with deadly secrets who hasn't felt anything for a hundred years. But there's something about him that calls to me, something broken in him that somehow fits with what's broken in me.
Which could spell death for us all.
Because Jaxon walled himself off for a reason. And now someone wants to wake a sleeping monster, and I'm wondering if I was brought here intentionally—as the bait.
New York Times and USA Today bestselling author Tracy Wolff wrote her first short story—something with a rainbow and a prince—in second grade, around the same time she forayed into the wonderful world of girls lit with her first Judy Blume novel. By ten she'd read everything in the young adult and classics sections of her local bookstore, so in desperation her mom started her on romance novels. And from the first page of the first book, Tracy knew she'd found her life-long love. A one-time English professor with over fifty novels to her name, she now devotes most of her time to writing romance and dreaming up heroes. She lives in Austin, Texas, with her family.
Disclaimer: I voluntarily read and reviewed an advanced copy of this book. All thoughts and opinions are my own. Thank you to Fantastic Flying Book Club, Netgalley, and Entangled Teen for this free copy. All quotes in this review are taken from the Advanced Reader Copy and may change in final publication.
I don't even care about the fact that this cover supposedly has some Twilight vibes, okay? When I found out I had the opportunity to get back into some YA vampire fiction, I was hooked like a fish. I was excited because I freaking love me some YA vampire novels and I miss when there were so many coming out around the same time. Thank you, Tracy Wolff, for making this!
We have the story of main character Grace and main vampire Jaxon. Grace, being our token human character, is put into a situation that may or may not be appealing to one such as herself. She finds herself in Katmere Academy after her parents were killed in a car accident, in the care of her uncle who just so happens to be the headmaster. At least she has some family trying to take care of her right? Maybe.
I would be a little bit upset with my uncle if I ended up having to attend a boarding school where I was having to fear for my life almost every day, but I guess that's just me.
It helped that Grace also has her cousin Macy as her roommate in this new world, and it helps that Macy has been doing everything she can to make sure that Grace feels welcome at the academy. It makes me think about some of the family dynamics that books have where even though things haven't been ideal, they somehow figure out a way to be together and help one another. It actually reminds me of A Constellation of Roses by Miranda Asebedo in that aspect.
Then of course we have the broodings of Jaxon Vega, and boy does he kind of also give me some Angel vibes, in that brooding sort of way.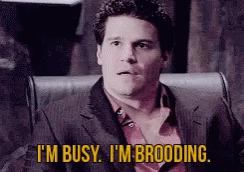 This was pretty fun and I think that Wolff did an amazing job bringing vampires back to the YA world. I'm excited to see how the sequel turns out!
Short and sweet always seems to work.
How can I still be in so much pain is beyond me.