OH MY GOSH. You have no idea how freaking excited I was to be able to get a chance to read this novel before its release, AND THEN being chosen for this blog tour! Ever since this was on my radar, I was hoping for this opportunity, and I'm so glad that I got it. Thank you again so much to the amazing wonderful team at Fantastic Flying Book Club for this opportunity, and for hosting this blog tour along with so many other amazing ones!
Be sure to click on the banner for more of the tour stops and to see some other blog tours heading your way.
Kira Fujikawa has always been a girl on the fringe. Bullied by her peers and ignored by her parents, the only place Kira's ever felt at home is at her grandfather's Shinto shrine, where she trains to be a priestess.
But Kira's life is shattered on the night her family's shrine is attacked by a vicious band of yokai demons. With the help of Shiro—the shrine's gorgeous half-fox, half-boy kitsune—Kira discovers that her shrine harbors an ancient artifact of great power . . . one the yokai and their demon lord, Shuten-doji, will use to bring down an everlasting darkness upon the world.
Unable to face the Shuten-doji and his minions on her own, Kira enlists the aid of seven ruthless shinigami—or death gods—to help stop the brutal destruction of humankind. But some of the death gods aren't everything they initially seemed, nor as loyal to Kira's cause as they first appeared.
With war drawing nearer by the day, Kira realizes that if this unlikely band of heroes is going to survive, they're going to have to learn to work together, confront their demons, and rise as one to face an army of unimaginable evil.
Website | Goodreads | Twitter | Tumblr | Facebook
A veteran bookseller and librarian, Courtney Alameda now spends her days writing thriller and horror novels for young people. Her debut novel, SHUTTER, was nominated for a Bram Stoker award and hailed as a "standout in the genre" by School Library Journal. Her forthcoming novel, PITCH DARK (Spring 2017), is a genre-blending science fiction/horror novel in the vein of Ridley Scott's 1979 film ALIEN.
Courtney holds a B.A. in English literature with an emphasis in creative writing. She is represented by the talented John M. Cusick of Folio Literary. A Northern California native, she now resides in Utah with her husband, a legion of books, and a tiny five pound cat with a giant personality.
Website | Goodreads | Twitter | Facebook
Valynne E. Maetani (pronounced Vuh-lin Mah-eh-tah-nee) grew up in Utah and obtained a Bachelor's degree from the University of Pennsylvania. In a former life, she was a project manager and developed educational software for children with learning disabilities. Currently, she is a full-time writer. She is a member of the We Need Diverse Books team and is dedicated to promoting diversity in children's literature because every child should grow up believing his or her story deserves to be told. Her debut novel, Ink and Ashes, is the winner of the New Visions Award 2013, a Junior Library Guild 2015 selection, and Best Fiction Book in Salt Lake City Weekly's Best of Utah Arts Award for 2015. She lives in Salt Lake City.
Disclaimer: I voluntarily read and reviewed an advanced copy of this book. All thoughts and opinions are my own. Thank you to Fantastic Flying Book Club, Edelweiss, and HarperCollins for this free copy. All quotes in this review are taken from the Advanced Reader Copy and may change in final publication.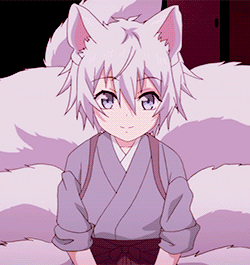 So everyone keeps mentioning how this book reminded them of an anime or a manga, and I have to say I totally agree. I was also going to pick a more action packed gif of a kitsune from an anime, but I feel like it could have triggered an epileptic reaction so I changed it, but you should totally look it up if you're interested. I will say that I was a little hesitant at first about this one, despite absolutely loving the synopsis and seeing that Maetani was one of the authors. Honestly, my doubts or fears about this novel were washed away as I was reading this, and wow I can't get over this one.
I freaking loved the story that Kira had to go through in this story, and I know that the whole "finding out your family has some secret that you never knew about which ends up coming to bite you in the ass when you least expect it" trope can seem played out, but it's a good trope that works. Don't knock something that's so good at pulling a reader in to the story. And in this case, I feel like Alameda and Maetani did an amazing job of pulling me in from the get to.
Like immediately.
I feel like one of the reasons why I had a little bit of doubts in the beginning was because I wasn't sure how Alameda and Maetani were going to do this, and I was just hoping that the Japanese mythology and culture in this novel would be done right, and done properly. So I was so thankful to read this and see some familiar stories that I remember hearing growing up, and seeing that it was done in a way where I could be proud of this story growing up. And I'm just so freaking glad that I was able to read this novel. I know I said this over and over and over, but I just really fell in love with this novel.
Once I get back to my office, where my Spotify works way better than on my laptop, then I'll fix my playlist art cover as usual. Until then, at least enjoy some of the bops I have that I feel gave me some vibes while reading this novel.
I'm not gonna lie, seeing a kitsune in a novel reminds me a little bit of Kira OH HEY! YES HER NAME IS KIRA TOO. And even though I freaking love Arden Cho, it would have ben sooooooooo cool if they actually cast a Japanese actress to play a Japanese character, ya know. But I think Teen Wolf including the Kitsune myth in their show really called it out in a way that hopefully brought some more light into this Japanese mythology.
This novel, I think it did a good job as well, and I like that their kitsune was a dude instead! Gotta show some love to my boy kitsune – ya feel?