Okay these contemporary novels are hitting me in the worst way. Thanks FFBC for making me cry this whole month! Hehe just kidding. They are the only group allowed to make me cry on purpose because of the novels they let me read. But seriously, Fantastic Flying Book Club is amazing and go check them out and sign up to be a tour host like me! Click on the banner for the rest of the schedule and more tour information. Here we go!
What if your safe place…is a person?
Adam Moynihan's life used to be awesome. Straight As, close friends and a home life so perfect that it could have been a TV show straight out of the 50s. Then his oldest brother died. Now his fun-loving mom cries constantly, he and his remaining brother can't talk without fighting, and the father he always admired proved himself a coward by moving out when they needed him most.
Jolene Timber's life is nothing like the movies she loves—not the happy ones anyway. As an aspiring director, she should know, because she's been reimagining her life as a film ever since she was a kid. With her divorced parents at each other's throats and using her as a pawn, no amount of mental reediting will give her the love she's starving for.
Forced to spend every other weekend in the same apartment building, the boy who thinks forgiveness makes him weak and the girl who thinks love is for fools begin an unlikely friendship. The weekends he dreaded and she endured soon become the best part of their lives. But when one's life begins to mend while the other's spirals out of control, they realize that falling in love while surrounded by its demise means nothing is ever guaranteed.
Website | Goodreads | Twitter | Facebook | Instagram | Pinterest | YouTube
Abigail was born in Pennsylvania. When she was twelve, her family traded in snow storms for year round summers, and moved to Arizona. Abigail chronicled the entire cross-country road trip (in a purple spiral bound notebook that she still has) and has been writing ever since. She became a tetraplegic after breaking her neck in a car accident when she was seventeen, but hasn't let that stop her from bodysurfing in Mexico, writing and directing a high school production of Cinderella, and becoming a published author.
Disclaimer: I voluntarily read and reviewed an advanced copy of this book. All thoughts and opinions are my own. Thank you to Fantastic Flying Book Club, Netgalley, and Inkyard Press for this free copy. All quotes in this review are taken from the Advanced Reader Copy and may change in final publication.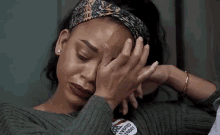 Okay fam. Again with a book that made me cry because of the plot and content. Again I have characters that I can relate to in some aspect and it brings back up memories of a time where I wasn't as happy as I am today. Again, I'm so freaking happy that I had the opportunity to read another great book as part of a blog tour because I swear FFBC has never let me down before.
Let's start with Adam, shall we?
The straight A student? Check.
Friends? Check.
Perfect home life? Semi-check but I didn't know better.
While I am so thankful that I've never had a sibling die – I could not imagine but my cousin did pass away when we were younger and the aftermath of that really left his siblings broken – I understand the grief surrounding that kind of change. It's such a huge shift in life that comes so unexpected and usually without any sort of warning. And then, how do you even react to something like that and move forward with your life?
Then we have our other main character: Jolene.
Parents divorced? Check.
Feeling used by at least one of your parents? Hella check.
I felt for Jolene in the sense that she just wanted to be able to make her life into one of the happy ones that she sees in movies, and wants to create in her own movies. I get that feeling because why would we choose to live in a world filled with pain and heartache? If we had the power to change how we live, wouldn't we take it?
I just had a bunch of feelings okay? I need to lay down. I'm so glad I can read this one over and over again because I need to see this when I get in a mood to have some emotional alone time. Not to mention the friendship that spawned between Adam and Jolene is one of my favorites, and I'm glad that they were able to be there for one another on the weekends they got to see each other.
Back at it again with another playlist, fam!
Yay for another instagram tour because I'm apparently loved and I appreciate it so much! Don't forget to visit the other hosts on the tour and enter in the giveaway being hosted by Inkyard Press! It's amazing, and the publishers that work with us have been nothing short of amazing. Seriously, I feel the love.