Hey fam. No real funny thing to say about this one because this book was anything but funny. It was actually super intense and I had a hard time with it solely for the content so I'll give you some heads up for that. Don't forget to click on the banner for the schedule and the giveaway information.
Bestselling author Laurie Faria Stolarz returns with Jane Anonymous, a gripping tale of a seventeen-year-old girl's kidnapping and her struggle to fit back into her life after she escapes.
Then, "Jane" was just your typical 17-year-old in a typical New England suburb getting ready to start her senior year. She had a part-time job she enjoyed, an awesome best friend, overbearing but loving parents, and a crush on a boy who was taking her to see her favorite band. She never would've imagined that in her town where nothing ever happens, a series of small coincidences would lead to a devastating turn of events that would forever change her life.
Now, it's been three months since "Jane" escaped captivity and returned home. Three months of being that girl who was kidnapped, the girl who was held by a "monster." Three months of writing down everything she remembered from those seven months locked up in that stark white room. But, what if everything you thought you knew―everything you thought you experienced―turned out to be a lie?
Website | Goodreads | Twitter | Facebook | Instagram
Laurie Faria Stolarz grew up in Salem, MA, attended Merrimack College, and received an MFA in Creative Writing from Emerson College in Boston.
Laurie Faria Stolarz is an American author of young adult fiction novels, best known for her Blue is for Nightmares series. Her works, which feature teenage protagonists, blend elements found in mystery and romance novels.
Stolarz found sales success with her first novel, Blue is for Nightmares, and followed it up with three more titles in the series, White is for Magic, Silver is for Secrets, and Red is for Remembrance, as well as a companion graphic novel, Black is for Beginnings. Stolarz is also the author of the Touch series (Deadly Little Secret, Deadly Little Lies, Deadly Little Games, Deadly Little Voices, and Deadly Little Lessons), as well as Bleed and Project 17. With more than two million books sold worldwide, Stolarz's titles have been named on various awards list.
Disclaimer: I voluntarily read and reviewed an advanced copy of this book. All thoughts and opinions are my own. Thank you to Fantastic Flying Book Club, Netgalley, and Wednesday Books for this free copy. All quotes in this review are taken from the Advanced Reader Copy and may change in final publication.
Oh my gosh guys. I'm not even joking about how hard this was for me to read especially in the beginning. This book alternates between the past and the present, and the past starts on the day that Jane Anonymous gets kidnapped. I couldn't even imagine being in her situation, and especially watching a bunch of shows like Criminal Minds and all that where the episode could deal with a child being kidnapped, and then the gang has to find them before that person ends up dying. Stuff like that is so stressful to watch honestly, like I don't know how we can continue to watch them and can be desensitized by that kind of violence.
So I'd please, please, please be careful about this one if this is something that you could be triggered by, because while some the shows and movies that we watch could be told from the rescuer's point of view (like a detective or something like that, you know?) this is told from Jane's point of view, and she's dealing with the past and the present. From the moment she woke up that morning and didn't think that anything was really going to be different.
The only thing different about that morning – before everything I mean – was that her best friend Shelley ended up coming home early from camp, and she wanted to have breakfast with Jane because she missed her so much. And of course, Jane kept procrastinating bringing the gift home from her work, so when she goes to get it… low and behold there's a stranger that somehow convinces her to open the store for him so he could "get his girlfriend a present for their anniversary."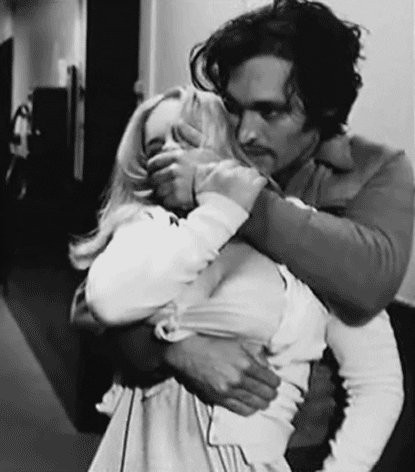 Sometimes you can't trust people and what their true intentions will be, despite wanting to believe the best in everyone. Or at least believing that there is some good in the world, worth fighting for. In Jane's case, that didn't happen, and that one mistake could have cost her so much more than seven months of her life. And books like this really end up breaking my heart, and I get really intrigued by how authors can get into the minds of someone like this. I don't think I could do it, and I don't know if I would even want to.
This is my second Stolarz book, and her reputation of writing books that can make me feel strange has continued. Strange isn't always a bad thing, and it's not in this case. In this case, I'm just hurt for Jane, and the aftermath of everything that she had to endure. And who is the real monster in this novel? Is it who we think it is? Or someone else?
You'll have to see, because with Stolarz, I don't feel like it's always as it seems.
Oh man, this line in the prologue though. This was the part where Jane talked about why she decided to write this novel and be anonymous about it rather than sell it to people to make big bucks out of it. And honestly, how could people want to buy this story just for the entertainment value, you know? I mean, she was kidnapped for seven months and somehow escaped, and all the media cares about is getting the rights to make something out of it. Terrible.
I don't think you really think about how people come off until it's too late, really. The rain making someone look defenseless and yet that didn't stop this dude from doing something bad. I honestly think about this line, and it makes me afraid to take anything for granted. I don't naturally, but to think that something as inconsequential as the weather could make someone look defenseless to a teenage girl was interesting and almost scary.