Okay, someone tell Winter that they are slacking this year because it feels more like Fall, which both are still seasons that I'm not used to having. Either way, I'm glad it's not too cold because I could not handle it.
But anyway, the only reason why I am loving winter this year is because I get to partake in this amazing event hosted by Sam @ Fictionally Sam and Clo @ Cuppa Clo, who are both absolutely amazing and wonderful and you should definitely check out their blogs and everything if you haven't already. The announcement post for Bookending Winter is linked to my banner above, or on Clo's name, so be sure to check that out and sign up and join us!
On the second day of December, our prompt host is none other than Laurie @ Laurie's Bookshelf and we have been tasked to take a moment to reflect on this past year. Let's see what Laurie has to say about today's prompt:
Prompt Explanation: December is here and that means it's time to look back on the past year. How was your 2019 regarding books? Did you haul too many books? Did you have a great reading year? Too many (E)ARCs left? And did you pass your reading challenge? Furthermore, it's time to look forward. What goals would you like to reach in the last month of 2019? Certain books you want to read before 2020 is upon us? Do you have reading goals for 2020? So, let's reflect on your bookish 2019!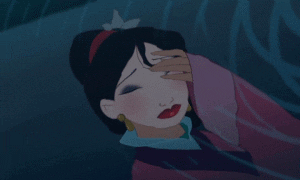 Okay not gonna lie, this is what I immediately thought of when I heard the word "reflection". And now it makes me want to watch Mulan when I get home. Rules be damned.
Well.
All I have to say is that I started off the year doing absolutely bare minimum of reading or anything. I actually wasn't anticipating getting back into the blogging world because I wasn't really active or anything, which meant that I wasn't having a very good following or interaction level with anyone. I'm pretty sure that from the moment I started my blog back in 2015 until mid-May of this year, I was consistently at… maybe 10 followers? I don't even know how I got that many when I would go months at a time with no content and no explanation. It was terrible.
I'm telling you, if it wasn't for Brittany @ Brittany the Book Guru convincing me to switch my blog over to WordPress and trying again, I would not be writing this post right now, nor would I have been around to talk and make friends with so many amazing people through the book community. It was also thanks to Brittany for getting me on Book Twitter, because I never really knew how to engage in Twitter before. Now I'm addicted to it. So thank you so much, Brittany, and I love you so freaking much.
Ahh I'm gonna cry now.
So thanks in part to being introduced into the world of blog tours, and for Fantastic Flying Book Club giving me the opportunity to have my very first blog tour with them – Lock Every Door by Riley Sager – my whole world changed. I started signing up for blog tours left and right if it was for a book that I found even remotely interesting. I feel like I was signing up for a lot in the beginning because I knew my odds for getting accepted for them were going to be pretty low. I mean, I just started this after all, and I was just getting in the hang of reading, reviewing, and blogging other bookish content. I had never done that before – my blog was strictly reviews and I was a slower reader back then so I didn't post reviews often at all.
But by adding weekly memes to the mix, and I was crazy enough to find something for every day of the week, I was able to fill my blog with content that related to books, engaged in the community, and kept my blog active in between reviews. I guess for me that somehow worked!
I know this is getting kind of long so I'll cut it down a bit. Basically, yes I hauled way too many books and I still have a bunch of ARCs to finish, but I am so proud of myself for not giving up like I usually do when I feel overwhelmed. I didn't allow myself to do that this time, and it worked out for me. So for 2020, I plan on continuing to stay positive during my journey, continue to interact with my fellow bloggers and book lovers, be more intentional on which blog tours I sign up for – making sure that I don't sign up for a blog tour that doesn't confirm the schedule or send out the book in time to read it properly – and just maintain my voice in my blog. Seems kind of like a broad and generalized list, but at least I will be successful by the time 2020 is over.
But here are some actual goals that I do want to accomplish for 2020 that can be measured out, and I'm hoping that with this post, I can maintain accountability and see what improvements I can make to be successful in hitting my goals:
Read at least 10 books in 2020 (it's a low goal, because I don't want to stretch myself too thin or stress myself out for not reading as much as I did this year.)
Buy a maximum of 3 books a month, or none at all if I can help it.
Use my library for most of my reading if possible
Raise my Netgalley percentage to 60% by the end of 2020
Whew! I was not anticipating this post to get super long. I'm pretty sure I was working on it on and off for a couple hours? But it's done! And I can't wait to see everyone's reflection posts. Until next time, fam.