Day 3 of Christmas, am I right? It did end up getting a little colder today, and I'm going to have to venture out into the world to get some food unfortunately, so I guess I better bundle up somehow.
Thank you again so much to the amazing and beautiful brains behind Bookending Winter and all the other Bookending Events: Sam @ Fictionally Sam and Clo @ Cuppa Clo. Be sure to click on the banner above, or the BEWinter19 icon on my sidebar for the announcement page that has all the information and prompts for this month's event.
On the third day of Christmas, my true love gave to me: another cool prompt by Laurie @ Laurie's Bookshelf for us to think about!
Winter is the ultimate time to get yourself comfortable with blankets, tea and books. Which books would you like to read this winter, or which books are getting you in the winter/Christmas mood?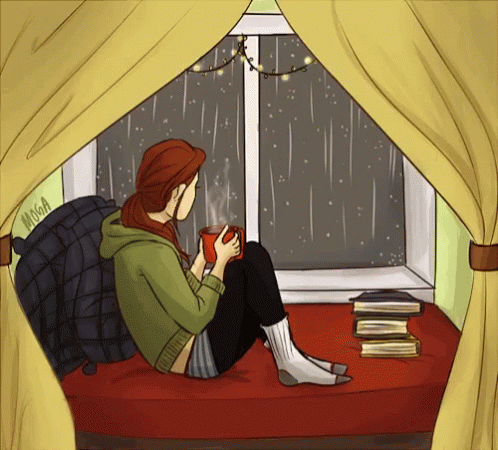 This whole gif is a vibe that I wish I could emulate in my life! I mean look at that right there.
So you guys already know that I am definitely a mood reader, but I'm also not a seasonal reader. Like… I don't really read books based on what season it is, nor do I pick a book that mostly deals with seasons to match the season that I'm currently in. It's weird, you get it. Just ask me. So honestly…. I don't even know what I want to read this winter specifically because I didn't even think about it!
But I'll try to come up with something!
Since I'm going to be reading this for the Coffee Break Book Club this month, might as well include it!
Same with this one, but I'm leading the discussion. Whaaaaaaa.
I gotta finish this before I lose my library privileges. They must be so irked that I keep borrowing books without reading them.
I can't freaking wait to read this one this month! So freaking stoaked that I even got approved for this!
Thank you to Hannah for picking this book out for me to read this month! I'm already super sad about it because of the first lines, but I'm so curious to find out what is happening. What happened. You know?
And that's it for me! I don't know how many books I plan on reading this month, and hopefully I can end the year off strong, so wish me luck!