Lisa @ Bookish Fantasies hosts this weekly meme, and definitely take part in it if you haven't already.
Want to participate in Shelf Control? Here's how:
Write a blog post about a book that you own that you haven't read yet.
Add your link in the comments!
If you'd be so kind, I'd appreciate a link back from your own post.
Check out other posts, and…
Sixteen-year-old Sana Kiyohara has too many secrets. Some are small, like how it bothers her when her friends don't invite her to parties. Some are big, like that fact that she's pretty sure her father's having an affair. And then there's the one that she barely even admits to herself, the one about how she might have a crush on her best friend.
When Sana and her family move to California, she begins to wonder if it's finally time for her to be honest with her friends and family, especially after she meets Jamie Ramirez. Jamie is beautiful and smart and unlike anyone Sana's ever known before. The only problems are: Sana is pretty sure Jamie's friends hate her, Jamie's ex isn't totally out of the picture, Sana's new friend Caleb has more-than-friendly feelings for her, and things with her dad feel like they're coming to a head. She always figured that the hardest thing would be to tell people that she wanted to date a girl, but as she quickly learns, telling the truth is easy…what comes after it, though, is a whole lot more complicated.
Barnes & Noble fam.
Sometime this year after Dana told me to read it. So it's still new for me, but I still wanted to include this because it needs to be loved.
I want to read Sugiura's debut novel before I read her sophomore novel, and I just feel like this would be such an awesome book to read. Plus that cover is so cute. And if I don't read it, Dana is literally going to bug me until I do, so might as well.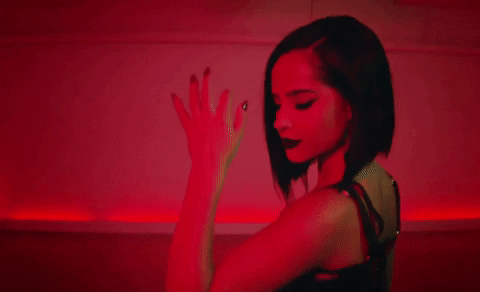 Thank you to the gif gods for making some gifs of this music video that literally came out days ago! Thank you, thank you, thank you!