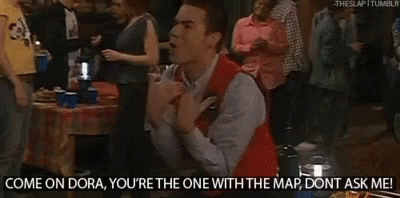 Seriously, Dora! You're giving me a crisis.
Thanks again to Mandy for keeping up with this weekly meme! You are so much appreciated. Am I going to have to go through my books and find what has maps in them though? Yes, yes I am.
Rules!
Share your top 5 books of the current topic– these can be books that you want to read, have read and loved, have read and hated, you can do it any way you want.
Tag the original post (This one!)
Tag 5 people
So basically I had to open up books that I haven't even read yet to find maps but I found five of them! So boo yeah!
Girls of Paper and Fire by Natasha Ngan. I can't wait to read this one honestly.
The Poppy War by R. F. Kuang. I still need to read this and the sequel so let's get going, shall we?
The Cruel Prince by Holly Black. Heard mixed reviews about both the book and the author so I'm still debating on if/when I would read this.
Caraval by Stephanie Garber. Absolutely adored this novel when I read it. I still need to read the final two books of course.
Furyborn by Claire LeGrand. I loved this one too! I feel like I need to reread it though. Also for some reason she doesn't have this map on her website so this was the best I could find.
Oh look! I posted the rules AND followed them for once. I'm on a freaking roll, fam.
I can't wait to see everyone's lists because I love seeing maps briefly and then forgetting that they exist until I have to actually find them again. But hey, they look amazing, and I love them. I'm just a lazy loser. See you guys next time!