First Lines Fridays is a weekly feature for book lovers hosted by Wandering Words. What if instead of judging a book by its cover, its author or its prestige, we judged it by its opening lines?
Pick a book off your shelf (it could be your current read or on your TBR) and open to the first page
Copy the first few lines, but don't give anything else about the book away just yet – you need to hook the reader first
Finally… reveal the book!
A lace trimmed wedding invitation sits on my nightstand and I know,
beyond the shadow of a doubt,
that Mama is not coming back.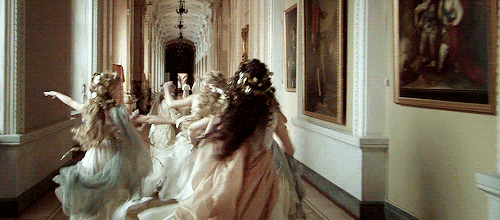 Violet Sterling has spent the last seven years in exile, longing to return to Burleigh House. One of the six great houses of England, Burleigh's magic always kept the countryside well. And as a child, this magic kept Violet happy, draping her in flowers while she slept, fashioning secret hiding places for her, and lighting fires on the coldest nights to keep her warm.
Everything shattered, though, when her father committed high treason trying to free Burleigh from the king's oppressive control. He was killed, and Vi was forced into hiding.
When she's given a chance to go back, she discovers Burleigh has run wild with grief. Vines and briars are crumbling the walls. Magic that once enriched the surrounding countryside has turned dark and deadly, twisting lush blooms into thorns, poisoning livestock and destroying crops. Burleigh's very soul is crying out in pain.
Vi would do anything to help, and soon she finds herself walking the same deadly path as her father all those years before. Vi must decide how far she's willing to go to save her house—before her house destroys everything she's ever known.
Content warnings are available via the author's website.
I was fortunate enough to be part of the blog tour for this one, and let me tell you, this book was really interesting! Have you had a chance to read this one yet? How about those first lines though, am I right?