Seriously guys I cannot believe that today is the last freaking day in July. Isn't it also Harry Potter's birthday? I'm pretty sure it is.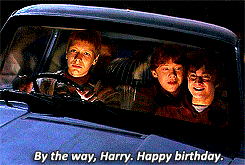 Sam @ Taking on a World of Words hosts this super fun weekly meme where we ask the most important three W questions of the week:
What are you currently reading?
What did you recently finish reading?
What do you think you will read next?
S.T.A.G.S. – M.A. Bennett
Before I Disappear – Danielle Stinson
As I type this, I'm pretty much almost done with S.T.A.G.S. and then I'm going to finish the crap out of Before I Disappear so I can write my review on it finally. It's been too long. I think this break took me away from my reading but it's okay. I'm ready to read again!
---
Angelfire (Angelfire #1) – Courtney Allison Moulton
I finished the majority of it on the plane back to Virginia, and then finished it completely the night I was in my own bed. It was a nice welcome home present.
---
I need to stop borrowing books and stop requesting ARCs until I get a handle on them. These impulse requests are getting out of control.
I think one book a week is a little bit more doable for me. I honestly don't know how I was doing that, but I'm proud of myself for getting back to reading and blogging. I have been thinking about another series that I want to start monthly, but I don't know yet. I still have to flesh it out, but you'll definitely hear about it and hopefully you'll join me in my journey.