I freaking love this meme! I like putting a bunch of gifs to keep you all in suspense. It's so much fun. It also makes me want to start new books if I choose one that I haven't quite started yet. Hehehe.
First Lines Fridays is a weekly feature for book lovers hosted by Wandering Words. What if instead of judging a book by its cover, its author or its prestige, we judged it by its opening lines?
Pick a book off your shelf (it could be your current read or on your TBR) and open to the first page
Copy the first few lines, but don't give anything else about the book away just yet – you need to hook the reader first
Finally… reveal the book!
It's agony and relief to watch my life end.
I'm not dying, though my heart aches as if it might.
Blood pounds drumbeats through my veins.
My temples throb while my mother takes the podium.
Spotlights shine on us, burning away the gloom of predawn light.
Pausing like a seasoned conductor before an orchestra,
Mother waits for the applause to die down.
---
---
---
---
---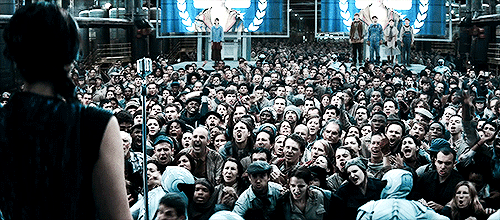 ---
No… it's not any of the Hunger Games novels. Just felt like it fit.
---
time for the big reveal!
---
Firstborns rule society. Secondborns are the property of the government. Thirdborns are not tolerated. Long live the Fates Republic.
On Transition Day, the second child in every family is taken by the government and forced into servitude. Roselle St. Sismode's eighteenth birthday arrives with harsh realizations: she's to become a soldier for the Fate of Swords military arm of the Republic during the bloodiest rebellion in history, and her elite firstborn mother is happy to see her go.
Televised since her early childhood, Roselle's privileged upbringing has earned her the resentment of her secondborn peers. Now her decision to spare an enemy on the battlefield marks her as a traitor to the state.
But Roselle finds an ally—and more—in fellow secondborn conscript Hawthorne Trugrave. As the consequences of her actions ripple throughout the Fates Republic, can Roselle create a destiny of her own? Or will her Fate override everything she fights for—even love?
This book was recommended to me by one of my closest friends here in Virginia. I still have yet to read it though, but I recently found the audiobook on Audible, so I should be listening to it before the third book comes out in August! Has anyone else read this one yet? Should I stop what I'm doing and start it already? Let me know!