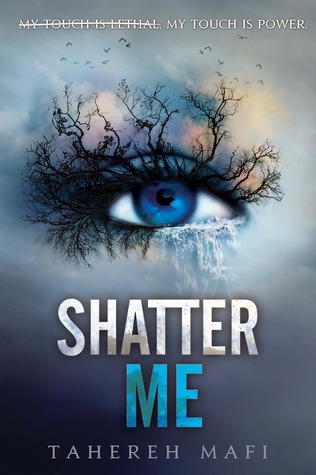 Title: Shatter Me (Shatter Me #1)
Author: Tahereh Mafi
Genre: YA Dystopia
Format: Audiobook
Narrated By: Kate Simes
Length: 9 hours, 13 minutes
Publisher: HarperCollins
Publish Date: October 2, 2012
Rating: ★  ★  ★  ★ 
Recommend: Yes!
Sorry. Just had to get that out of the way.
I finally got a chance to listen to this book after staring at it on my shelf for a couple of years. I'm actually shocked that there are some Barnes & Noble stores that still sell it. It looks like it first came out in 2012, so would that be considered too old to keep on the shelves? Either way, it's on mine. And I finally got to get to it, even if not the one on my shelf.
Oh well.
Anyway, I just have to say that I didn't get the premise at first, or at least the whole story, from just reading the synopsis. I think that's why I was so hesitant to read it in the first place. But I finally just got over it, and since I didn't have to wait for the audiobook, I just pounced on it. I think what actually got me to listen to it was because someone asked what were the scratching noises in the audiobook, and people explained that that was Juliette scratching out the words she was writing in her journal. She's write her real thoughts, and then scratch it out, and the next sentence would be either what she really said, or what she changed her thought to be. It was interesting to see someone censor themselves like that through words.
Another thing, I can't help but feel terrible that Juliette was basically isolated for three years of her teenage life because of an accident. It's not like she really knew the consequences of touching someone except for when it happened – when she was accused of murder. Isn't one of the requirements of being guilty of murder is having intent? It would be manslaughter otherwise. But then again, the world is almost dead, the animals and humans have all been poisoned for the most part and I doubt that the remaining people in society – or more specifically the Reestablishment – want to deal with such trivial stuff like due process. I mean, what's the point right? The world is dying.
This book made me feel a certain type of way. I don't think I liked Warren at all. I think I actually hated him. He felt like an abuse boyfriend that wanted to keep Juliette under his thumb, and how he would try to manipulate her into touching him, or even others to see just how powerful she is? He's sick. Did not like. Throw the whole guy away.
Adam… I know I wasn't sure about him at first until Juliette realizes who he was. Then we got to learn more about Adam and his past, his present. Just more about him. I think it made him a little bit more tolerable for sure. I love his little brother and how much he cares about him. The backstory about how we meet his little brother in the book was a little heartbreaking, but I'm glad he's still around by the time the first book ends.
I'm proud of Juliette by the end. I think she will learn how to use her powers for good, however that will be. I really felt terrible for her when she had a period of wondering whether she really was insane or not. That actually broke me, knowing that these people ruined her so much that she wasn't even sure of her sanity. Seriously, screw the Reestablishment.
I can't wait to get to the sequel in the future. And all the novellas? There's so many books for this world out there.