Now a major motion picture starring Matthew McConaughey and Idris Elba

"An impressive work of mythic magnitude that may turn out to be Stephen King's greatest literary achievement" (The Atlanta Journal-Constitution), The Gunslinger is the first volume in the epic Dark Tower Series.

A #1 national bestseller, The Gunslinger introduces readers to one of Stephen King's most powerful creations, Roland of Gilead: The Last Gunslinger. He is a haunting figure, a loner on a spellbinding journey into good and evil. In his desolate world, which mirrors our own in frightening ways, Roland tracks The Man in Black, encounters an enticing woman named Alice, and begins a friendship with the boy from New York named Jake.

Inspired in part by the Robert Browning narrative poem, "Childe Roland to the Dark Tower Came," The Gunslinger is "a compelling whirlpool of a story that draws one irretrievable to its center" (Milwaukee Sentinel). It is "brilliant and fresh…and will leave you panting for more" (Booklist).

Book Overview:

Author: Stephen King | Series: The Dark Tower | Format: Audiobook | Narrated by: George Guidall | Length: 7 hours, 20 mins | Publish Date: June 13, 2017 | Genre: Fantasy/Horror | Rated: ★ ★ ★ | Recommend: Maybe


"I do not aim with my hand; he who aims with his hand has forgotten the face of his father.I aim with my eye.
I do not shoot with my hand; he who shoots with his hand has forgotten the face of his father.I shoot with my mind.
I do not kill with my gun; he who kills with his gun has forgotten the face of his father.I kill with my heart."


This was my very first Stephen King novel, and honestly, I think it may be my last…

For now, anyway.

For one thing, I hate horror, and I figured that this book wouldn't be too scary like his other works so I gave it a chance. Not to mention, I watched the movie that came out recently and I absolutely loved it. Idris Elba was the best Gunslinger ever, or at least I loved him in this movie.

But this book just didn't do it for me. For one, I just didn't like all the sex happening in the beginning. There were also times where Roland would get suddenly aroused and I felt so uncomfortable with it. Yes, I get him getting aroused during sex. That's a given, but when he's in the forest with Jake – who somehow was killed in his world and was sent to Roland's world as a result – talking to some oracle or entity, he's getting aroused? It's not like he's lacking in the sex department.

I just didn't get it, and I didn't get to appreciate it the way that I got to for the movie. I've seen some people say that they didn't understand it when they were younger and had to read it again when they were more adults, and maybe that's what I'll have to do. But for now, this just wasn't my cup of tea.


Author Spotlight
Courtesy of Goodreads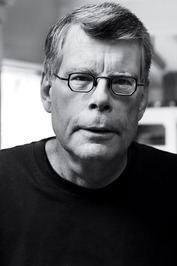 Born: in Portland, Maine, the United States
Genre: Horror, Mystery, Literature & Fiction
Influences: Robert Bloch, Ray Bradbury, Charles Dickens, Shirley Jackson, H.P. Lovecraft, John D. MacDonald, Richard Matheson, J.R.R. Tolkien
Goodreads Member Since: December 2013
Stephen Edwin King was born the second son of Donald and Nellie Ruth Pillsbury King. After his father left them when Stephen was two, he and his older brother, David, were raised by his mother. Parts of his childhood were spent in Fort Wayne, Indiana, where his father's family was at the time, and in Stratford, Connecticut. When Stephen was eleven, his mother brought her children back to Durham, Maine, for good. Her parents, Guy and Nellie Pillsbury, had become incapacitated with old age, and Ruth King was persuaded by her sisters to take over the physical care of them. Other family members provided a small house in Durham and financial support. After Stephen's grandparents passed away, Mrs. King found work in the kitchens of Pineland, a nearby residential facility for the mentally challenged.
Stephen attended the grammar school in Durham and Lisbon Falls High School, graduating in 1966. From his sophomore year at the University of Maine at Orono, he wrote a weekly column for the school newspaper, THE MAINE CAMPUS. He was also active in student politics, serving as a member of the Student Senate. He came to support the anti-war movement on the Orono campus, arriving at his stance from a conservative view that the war in Vietnam was unconstitutional. He graduated in 1970, with a B.A. in English and qualified to teach on the high school level. A draft board examination immediately post-graduation found him 4-F on grounds of high blood pressure, limited vision, flat feet, and punctured eardrums.
He met Tabitha Spruce in the stacks of the Fogler Library at the University, where they both worked as students; they married in January of 1971. As Stephen was unable to find placement as a teacher immediately, the Kings lived on his earnings as a laborer at an industrial laundry, and her student loan and savings, with an occasional boost from a short story sale to men's magazines.
Stephen made his first professional short story sale ("The Glass Floor") to 
Startling Mystery Stories
 in 1967. Throughout the early years of his marriage, he continued to sell stories to men's magazines. Many were gathered into the 
Night Shift
 collection or appeared in other anthologies.
In the fall of 1971, Stephen began teaching English at Hampden Academy, the public high school in Hampden, Maine. Writing in the evenings and on the weekends, he continued to produce short stories and to work on novels.