Let's Talk Bookish is a weekly meme that was originally created and hosted by Rukky @ Eternity Books starting in August 2019, and was then cohosted with Dani @ Literary Lion from May 2020 to March 2022. Aria @ Book Nook Bits has been the host since the beginning of April 2022.
Prompts: What books do you like to read in spring? What makes you feel the change in the seasons? Is it the cover, or the content? Do you read certain genres in spring, or books set during the season? What books are on your spring 2023 tbr?
Oh gosh today was so hectic and chaotic but fun. I was part of my library's LARP for Super Mario Party and it was really, really fun! I know I was really stressed about it in the beginning because it was my first time participating in a LARP but I was with an amazing team and that's what helped me get through it.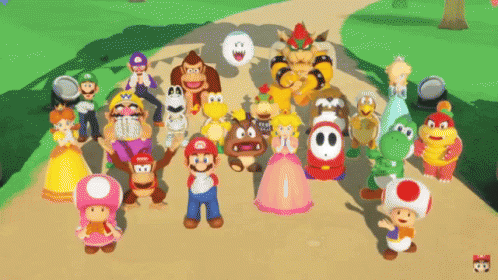 So let's get started on these prompts, shall we?
I would say that my mood reading doesn't actually have to do with the season. I don't really read particular books during particular times… I know I said that twice but in two different ways.
So that kind of sucks because I can't really answer much of this like I want to. Hopefully something that makes me happy and warm, you know? I guess that's the best way to describe the kind of books that I would want to read during the spring time. When the sun is out and when I can feel the warmth and want to sit by the water and read, that's when I know it's springtime.
I did have to come up with some sort of a TBR for Spring for Top Ten Tuesday, which I will share here – although I don't know if I will end up making it through this during the Spring time, but I will definitely try!
Sorry for this being late, but thank goodness it's not too late! I hope y'all are having an amazing weekend. I'm going to get some ramen and I'm so excited! It's my favorite meal at my favorite restaurant, so I'm excited for it. Yes, I said that twice, again.