#FaeFriday was created to help fill the hole in Kristy's life after #FridayFavorites was discontinued. The idea behind this weekly blog prompt is that each Friday will have a bit of magic sparkled on it with a bookish prompt inspired by the Fair Folk! #FaeFriday is the creation of Kristy from Caffeinated Fae! This blog tag would not have been possible without the help & encouragement from Leah at www.leahs-books.com! If you have a prompt idea, please contact me, and you'll get credit if/when it's used!
To participate in Fae Friday, please do the following:
Link back to this page on Caffeinated Fae.
If the prompt idea is from another blog, link to that blog as well.
Use #FaeFriday when posting to social media so we can all find each other!
Participate when you can & have fun with the prompt!
This week on #FaeFriday, we're talking about iron! Iron is known to ward off faeries and, in some instances, limit the Fae's powers. So this week's prompt is: What is something that sucks the magic out of a book? **This prompt was created by the wonderful @Leahs_Books! Please link to her blog www.leahbooksandcooks.com.**
Talk about a fun-sucker. I officially lost my voice. I've been trying to talk for the past two days and it's been gone. I don't even know how it's going to be today honestly, since I haven't been talking to anyone since I got to my hotel room for my board meeting. Yep, I'm supposed to have a board meeting this Friday and I'm hoping that I don't have to give any input. If so… I guess they better deal with me typing up my responses! I actually have to even see if they will let me attend since I'm technically still under the weather. I don't feel sick, but my throat is definitely still sore. It hurts to cough too, but luckily that's it. Besides the no voice thing…
Anyway, thanks Leah for this awesome prompt! I don't know if I've thought about this before but now I have to!
I guess for me, something that sucks the magic out of books is either too much information on the magic system or too little information. I know that seems like a weird answer, but there's some sort of balance involved. I don't want to know everything – well, sometimes I do and when that happens, you know I'm invested in the story and the world-building – but other times I just need to know the "basics". I just need to know what's the big bang, if that makes sense. I don't need a full Book of Shadows or anything, but I like to know how a world works without constantly being confused, but WITHOUT the mystery being revealed.
Gosh, I don't even know if that makes sense, but that's what I mean.
I think another thing that takes the magic out of books for me is when they overuse the miscommunication trope. Like, this is 2023 y'all. With all this talk about us getting our communication on and healing and being healthy and shit in our relationships, miscommunication should not be the thing anymore. I know that's easier said than done, and I know that even my personal life will sometimes have miscommunication but it's not the thing that breaks us up anymore, at least not the very first time. You know what I mean? Like if a character overhears something, and then the other character is like "Let me explain, you didn't hear the whole story" and then that first character is like "No, I'm done."?! No! We don't want that! We want our characters to maturely have conversations when miscommunication occurs and have mature discussions on what hurt them and how to address that behavior.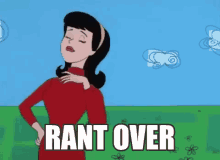 I just want my characters to have a fighting chance, damn it!
I actually missed a blog post yesterday! Which was okay, because I just didn't feel like doing a Thursday Quotables when I feel like that's my weakest post. I'm allowed to change up my roster, right? I don't know if I'll continue to try to have something posted every day, but maybe I'll do some browsing to see if there's another weekly meme that takes place on Thursday that I want to start. Or I can just leave it blank as a break? We will see.
Do you know of any weekly memes that are usually posted on Thursdays? Let me know! I would like to see what's been happening in the blogging community since it's been so long.
See you next time! Hopefully with an actual voice again.