#FaeFriday was created to help fill the hole in Kristy's life after #FridayFavorites was discontinued. The idea behind this weekly blog prompt is that each Friday will have a bit of magic sparkled on it with a bookish prompt inspired by the Fair Folk! #FaeFriday is the creation of Kristy from Caffeinated Fae! This blog tag would not have been possible without the help & encouragement from Leah at www.leahs-books.com! If you have a prompt idea, please contact me, and you'll get credit if/when it's used!
To participate in Fae Friday, please do the following:
Link back to this page on Caffeinated Fae.
If the prompt idea is from another blog, link to that blog as well.
Use #FaeFriday when posting to social media so we can all find each other!
Participate when you can & have fun with the prompt!
This week on #FaeFriday, we're talking about healing! Faeries are known for their healing abilities. It doesn't matter if it's a dying plant or a broken heart. The fair folk can help mend what is broken. So this week's prompt is: What book helped you through a difficult time?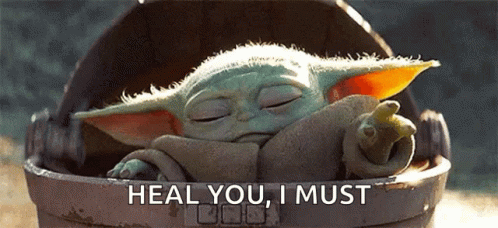 Something about these prompts really makes me want to read more books on Fae. Maybe that's the whole point, because I haven't had a good one in a while. I need more recommendations, so feel free to lay it on me!
Anyway, back to the topic at hand. I don't know how many difficult times I've had in my life. I feel like one of the main constants in my life have been my love for books. Maybe I wasn't always reading as much as I am now, but I've always looked towards books and fantasy for comfort. It just helped to get out of reality for a while, you know what I mean?
I can't remember which difficult times I was going through honestly, but these are the books that I'm loving and ones that I would gravitate towards when I need some love and care from my fictional family.
All of these books have special places in my heart and they gave me so much joy and happiness when I read them. I also went through these stories so quickly because I was so immersed in the stories of these amazing characters. I saw a bit of myself in each of the main characters, and it was like giving myself a big hug. Definitely gave me some healing moments. Have you read any of them? I recommend all of them, and I am due for a reread of these in the near future.
Oh, did I bring my post back to OG Charmed again? Sheesh, I'm back on my obsession. Nah, it's not a true obsession. It was just nostalgia for me. I haven't even finished the series during my rewatch because I just don't like the whole Billy/Christy arc, which sucks because that's the final season and all, but yeah. Off my soapbox now.
I hope everyone had a good week. I'm off today because I work Saturday. I have two programs that I'm doing tomorrow, one in the morning and one in the afternoon. I'm looking forward to both of them, and then I can't wait to come back home and sleep! I pretty much crashed when I got home from work on Thursday and almost didn't wake up in time to write this post! But I did it, so yay me.
See y'all next time!