#FaeFriday was created to help fill the hole in Kristy's life after #FridayFavorites was discontinued. The idea behind this weekly blog prompt is that each Friday will have a bit of magic sparkled on it with a bookish prompt inspired by the Fair Folk! #FaeFriday is the creation of Kristy from Caffeinated Fae! This blog tag would not have been possible without the help & encouragement from Leah at www.leahs-books.com! If you have a prompt idea, please contact me, and you'll get credit if/when it's used!
To participate in Fae Friday, please do the following:
Link back to this page on Caffeinated Fae.
If the prompt idea is from another blog, link to that blog as well.
Use #FaeFriday when posting to social media so we can all find each other!
Participate when you can & have fun with the prompt!
This week on #FaeFriday, we're talking about the Winter Court. The Winter Court is known to be dark, chilling, and sensible. They are the faerie representation of Winter, so this week's prompt is: What book left you feeling the winter chill? **This prompt was co-created by @Leahs_Books! Please link to her blog www.leahbooksandcooks.com!**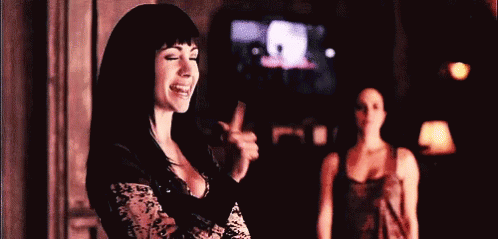 Happy Friday, y'all. This week was so extra stressful for me and I'm not completely done yet. I plan on ending the week strong and I want to make sure I get this blog post done before I go to bed tonight. As y'all know, I write these posts the night before, so I mean before falling asleep Thursday night, even though I just said "happy Friday" to you. You know what I mean.
I think it's funny that it's technically still winter so I can try to think back to what book gave me the "winter chill". Does this mean that it left me with an even colder heart than I normally do? Did it leave me cold for love? Did it… make me wish that I could cuddle with the main characters to keep warm? I don't even know.
Thinking back on this, I would say that a book that gives me "winter chill" vibes would be The Ancestor by Danielle Trussoni, which is a shame because I mentioned that book last week and I really didn't want to mention it again. Not that there's a problem with it – although honestly I'm upset with the ending – but I want to be able to share other books every week. Unfortunately, I don't think I have any books that I've read this year that give me "winter chill" vibes, so I'll have to stick with this. It takes place in an icy fortress for goodness sake! Of course I have to go with it.
Yeah… I don't like having to talk about books multiple times when I don't like them, but it is what it is. I guess it is what it is, and it makes sense that this will be how my week ends. I am looking forward to seeing how next week goes, and I'm excited to see what other books I end up getting to share and talk about. I hope some people get to comment on this post so I can add more books to my winter chill list. Hopefully I can also think about another one in the meantime so I can have something else to contribute.
Do you have any plans for the weekend? I'm thinking I may do an annotated reread of I Love You So Mochi by Sarah Kuhn for a buddy read, since I adored that book so much. I don't know how far I'll get this weekend, but I may be able to dedicate my whole time to it as much as possible so that I can immerse myself in the story again.
See you later!