#FaeFriday was created to help fill the hole in Kristy's life after #FridayFavorites was discontinued. The idea behind this weekly blog prompt is that each Friday will have a bit of magic sparkled on it with a bookish prompt inspired by the Fair Folk! #FaeFriday is the creation of Kristy from Caffeinated Fae! This blog tag would not have been possible without the help & encouragement from Leah at www.leahs-books.com! If you have a prompt idea, please contact me, and you'll get credit if/when it's used!
To participate in Fae Friday, please do the following:
Link back to this page on Caffeinated Fae.
If the prompt idea is from another blog, link to that blog as well.
Use #FaeFriday when posting to social media so we can all find each other!
Participate when you can & have fun with the prompt!
Faeries were often accused of leaving changelings in place of a child. So this week's prompt is: What is a book you picked up that wasn't at all what you thought it would be?
So while #FaeFriday is actually not active anymore, I still liked the idea of doing something with this since I hadn't done it in a while. Luckily Kristy saved the past prompts from 2020 and 2021, so I'm basically going to take a trip down memory lane and see how far I can get answering all of the old prompts. This one is from January 24, 2020.
I'm honestly really glad that this prompt isn't directly asking about books with changelings because I don't think I've read any, so I wouldn't have anything to contribute this week. However, this prompt is pretty interesting and I'm glad to think about it today.
So I'm actually going to talk about one of my current reads. This is what is basically inspiring my library's unofficial WTF book club among the staff because of how wild the plot was described to us. When I found out the plot twist, I had to read it. Honestly I came into it thinking it was going to be ridiculous and wild, which it kind of is and that at least has been meeting my expectations. But I didn't think that the plot twist would be linked towards a more "scientific" type of reasoning, if that makes sense. I can't really describe it without giving it away, but if you want to know, feel free to ask me and I'll privately tell you!
So while I'm not loving the book, I find that I'm still intrigued enough to keep reading it until the end. I have grown to finally DNF books that I'm not actively enjoying or interested with, so the fact that I haven't DNF'ed this book yet seems to be a good sign? Or maybe I just thought I grew up enough and I really didn't. Who knows these days?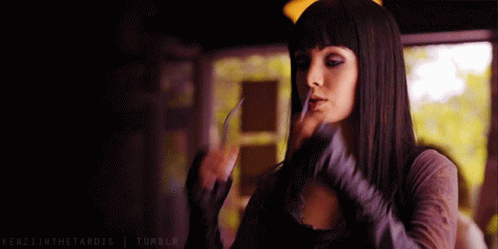 Oh I miss my girl Kenzi. I still haven't watched Season 5, and I think it's funny that on the last #FaeFriday post I did, I said the exact same thing. Clearly my sentiment has not changed because I know that Kenzi isn't prominent in that season and I feel like Bo is not complete without Kenzi in her life. Is that a spoiler? I know Lost Girl has been off air for a while now, but still. Anyway. I don't like that it's not on Netflix anymore. They need to bring it back so I can binge watch it again.
I hope y'all are doing well! I think my plan of doing a post a day is helping. Setting up the post for the next day, rather than worrying about having to post something before the day is out helps a lot. Maybe setting aside time to write every day will help me get back in that habit and then I'll eventually start working on my stories again. We will see!
I hope y'all have a wonderful weekend. See you tomorrow.