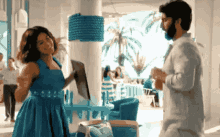 Woot woot! Happy Saturday everyone. For those of you in the US or not but having a remembrance for September 11, 2001, I hope that you are finding some peace and spending the day the way you need to. Thank you again so much to TBR & Beyond Tours for hosting this tour and for including me on it. Stay tuned for my IG post… I haven't decided if it's going to come out before this post or after, so just keep an eye out. Also, don't forget to check out the full tour schedules for both blogs and IG by clicking on the banner above. You know the drill!
Disclaimer: I voluntarily read and reviewed an advanced copy of this book. All thoughts and opinions are my own. Thank you to TBR & Beyond Tours, Sarah Glenn Marsh, Netgalley, and Razorbill for this free copy. All quotes in this review are taken from the Advanced Reader Copy and may change in final publication.
I adore Sarah Glenn Marsh first of all, so anything that I read from her I know I'm going to love. But I also know that her stories can get pretty scary when she wants them to be, and that's what happened here. I was on the edge of my seat, trying to find out if Dare and her service dog Waffles were going to survive the haunted house, and wondering why she would even take that chance in the first place!
So what was Dare doing in a haunted house in the first place? Well, even though she's a huge supernatural skeptic, she runs a podcast called Attachments, which is a paranormal-investigation podcast and still pretty brand-new. Don't get me wrong, I can understand someone not believing in something, but wanting to get out and explore it anyway, but I don't mess with paranormal stuff. Nope, there have been too many times where something happens that I just can't explain, spirits that I feel around me in certain houses, etc. For someone that is a skeptic, I would feel like things would get pretty bad BECAUSE I didn't believe in it, you know? But either way Dare ends up getting the opportunity to travel to the Arrington Estate, where it is believed that Atheleen Bell from thirty years ago haunts the estate to this day due to her drowning in the lake near the property. Could it be just a local legend, or will Dare find some information to lead to what could have actually been a murder?
Honestly, anything that SGM writes is amazing. Not only does she show amazing representation that is realistic and not a trope, and being able to have the kind of writing to suck you into the story from the get go, I just can never go wrong with one of her novels. I highly recommend this, and I hope you get the chance to go on this paranormal adventure with Dare, Waffles, and the others that may or may not be alive in this story. Just keep an open mind, like Dare did when she first got to the Estate.
Thank you to Andy for listing all of the rep and CWs for this novel. I wouldn't have gotten them all:
Rep: Bisexual chronically ill female MC (type 1 diabetes), sapphic Bourican/biracial love interest.

CWs: Animal death (not on page, but skeletons are found), blood, chronic illness (type 1 diabetes), death, ghostly haunting, medical content, murder, stalking, toxic relationship, violence, vomit.
Today is the day I get back to IG, and it just so happens that today I get to post my journal for this tour! Super excited!
Content Warnings: scary images, death
The Conjuring meets Sadie when seventeen-year-old podcaster Dare takes an internship in a haunted house and finds herself in a life-or-death struggle against an evil spirit.

Dare Chase doesn't believe in ghosts.

Privately, she's a supernatural skeptic. But publicly, she's keeping her doubts to herself—because she's the voice of Attachments, her brand-new paranormal investigation podcast, and she needs her ghost-loving listeners to tune in.

That's what brings her to Arrington Estate. Thirty years ago, teenager Atheleen Bell drowned in Arrington's lake, and legend says her spirit haunts the estate. Dare's more interested in the suspicious circumstances surrounding her death—circumstances that she believes point to a living culprit, not the supernatural. Still, she's vowed to keep an open mind as she investigates, even if she's pretty sure what she'll find.

But Arrington is full of surprises. Good ones like Quinn, the cute daughter of the house's new owner. And baffling ones like the threatening messages left scrawled in paint on Quinn's walls, the ghastly face that appears behind Dare's own in the mirror, and the unnatural current that nearly drowns their friend Holly in the lake. As Dare is drawn deeper into the mysteries of Arrington, she'll have to rethink the boundaries of what is possible. Because if something is lurking in the lake…it might not be willing to let her go.
Sarah Glenn Marsh writes young adult novels and children's picture books. An avid fantasy reader from the day her dad handed her a copy of The Hobbit and promised it would change her life, she's been making up words and worlds ever since.
When she's not writing, Sarah frequents the pottery studio, volunteers her time to sighthound rescue, and raises awareness about her autoimmune disease, Type 1 diabetes. She often enjoys pursuits of the nerd variety, from video games to tabletop adventures. She's never met an animal or a doughnut she didn't like.
Sarah lives in Richmond, Virginia with her husband and their tiny zoo of four rescued sighthounds, two birds, and many fish. She is the author of Fear the Drowning Deep, the Reign of the Fallen series, and several books for younger readers.