Happy Saturday, mersquad. I hope y'all are having a good weekend, whether you're on a break, working, or anything you need to handle today. Things have been interesting this week, and honestly I know that things throughout the world have not been good. Whatever your mental health is right now, I hope that you will take the time you need to in order to process, heal, decompress… whatever you need today.
Thank you again so much to TBR & Beyond Tours for hosting this tour and including me on it. Click on the banner above to see the rest of the tour. I also have a mini review coming up on my IG today – since I don't time my blog and IG posts for tours anymore oops – so stay tuned for that.
Bad Witch Burning
by Jessica Lewis
Publisher: Delacorte
Release Date: August 24, 2021
Genre: YA Fantasy / Paranormal
Length: 352 pages
Goodreads | Amazon | Barnes & Noble | Book Depository | Indigo | IndieBound
Content warning: minor body horror, threat of harm to animals and animal death. Some animal death is real and some is imagined.
For fans of Us and The Chilling Adventures of Sabrina comes a witchy story full of black girl magic as one girl's dark ability to summon the dead offers her a chance at a new life, while revealing to her an even darker future.
Katrell doesn't mind talking to the dead; she just wishes it made more money. Clients pay her to talk to their deceased loved ones, but it isn't enough to support her unemployed mother and Mom's deadbeat boyfriend-of-the-week. Things get worse, when a ghost warns her to stop the summonings or she'll "burn everything down." Katrell is willing to call them on their bluff, though. She has no choice. What do ghosts know about eating peanut butter for dinner?
However, when her next summoning accidentally raises someone from the dead, Katrell realizes that a live body is worth a lot more than a dead apparition. And, warning or not, she has no intention of letting this lucrative new business go.
But magic doesn't come for free, and soon dark forces are closing in on Katrell. The further she goes, the more she risks the lives of not only herself, but those she loves. Katrell faces a choice: resign herself to poverty, or confront the darkness before it's too late.
Jessica Lewis is a Black author and receptionist from Alabama. She has a degree in English Literature and Animal Science (the veterinarian plan did not work out). She lives with her way-funnier-than-her grandmother, who answers all of her wild questions about ghosts and zombies and werewolves (even if she's annoyed sometimes haha!). When she isn't writing or working she enjoys watching cooking shows or HGTV-type home shows.
Disclaimer: I voluntarily read and reviewed an advanced copy of this book. All thoughts and opinions are my own. Thank you to TBR & Beyond Tours, Netgalley, and Delacorte for this free copy. All quotes in this review are taken from the Advanced Reader Copy and may change in final publication.
If I was able to talk to the dead, or even anything remotely supernatural that was rare, I would probably do the same thing that Katrell did: find a way to make money off of it. Nothing wrong with a side hustle, okay? Isn't that what everyone keeps talking about these days? Can't even have a fun hobby without people telling you to make that a side hustle, so here you go.
I also understand why she went to such lengths, and why when she finds out that she's somehow able to bring the dead back to life and make even more money off of it, she doesn't heed the previous warning she got about burning everything down. People will do whatever they can to survive, especially when they are one of the main sources of income for their family. I understand that, and I don't even blame Katrell for pushing the boundaries as far as she can with her powers. It just sucks that that warning may actually turn out to be valid, and things may turn for the worse if she keeps it up.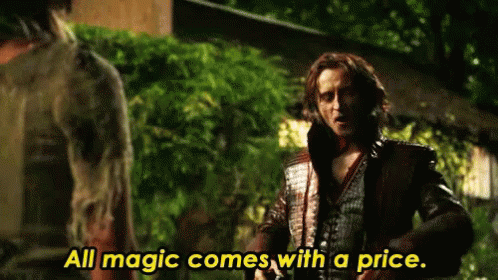 It doesn't help that I recently finished another book with a daughter dealing with abuse from her mother's numerous boyfriends – although in The Girls I've Been, the boyfriends were marks until the final one… but that's another story of course – but reading about these kinds of relationships has been super hard for me. Katrell has been dealing with a string of her mother's boyfriends abusing her until they've had their fill. On to the next, the abuse doesn't seem to end. It also doesn't help that Katrell's mother doesn't seem to actually care since this constant stream of boyfriends hasn't actually improved in personality. I mean, the main reason why Katrell resorted to using her powers to make money is because that's what her mother makes her do in order to support both of them. So not only is Katrell having to deal with the repercussions of her powers in the supernatural world, but dealing the natural world of a negligent mother and men that shouldn't have ever been in that household in the first place.
Is it almost some sort of reprieve for her to deal with her clients and the dead? You tell me.
I've seen Goodreads also label this story as a horror novel, and I totally agree with that one. Not just because of what happens when you use magic to bring the dead back to life – the Monkey's Paw, anyone? – but just Katrell's home life. It is horrible, and something that nobody should have to deal with, but is more common than it should be. This will be something to keep in mind as you read it, and since all magic comes at a price, don't trust all that you see. Let's just leave it as that. It's still giving me chills!