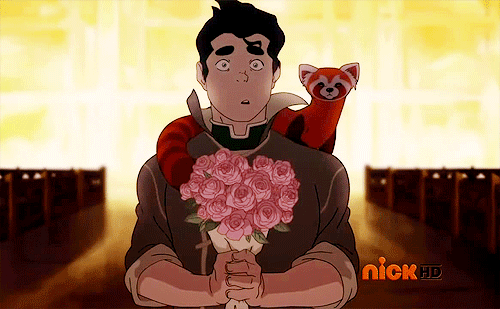 It's certainly been a while since I've done a rapid review, and honestly there are so many reviews that I need to catch up with anyway that I figured I'd need to get back on track, you know? So here's a little gif of Bolin and Pabu with flowers since I'm super sorry for all of these super late and super short reviews that will be coming down the pipeline.
This was such a beautiful book. I feel like I've been saying that a lot lately about a lot of books, but it's just so true. Jude is just a middle school girl, who recently moved with her mother to the United States – Cincinnati to be exact – in order to escape the violence in Syria. Her brother and her father are left in Syria for the time being, and hopefully Jude and her whole family can be reunited in their new home one day. Jude and her mother are going through a culture shock, where even though this is the "land of the free", people seem to have a different definition of what "free" actually means. I couldn't help but root for Jude, and her new experience in a US middle school, with her relatives who aren't exactly like her.
It looks like I actually wrote a better review on Instagram last year, and for some reason I didn't document that? Well, here it is!
This was definitely interesting. I thought it would be a bit more about the whole performative activism that Alix would have after the situation with Emira and her daughter Briar. And honestly, wow what did end up happening at that grocery store was really messed up. I would have been super pissed like Emira was, and quite frankly I don't know what I would have done. I definitely appreciate Emira's decision by the end of the novel, and I think she made the right one. I guess I felt that I wanted a bit more to the story? I don't know. It definitely has been a while since I read it but that's what I remember feeling. Nothing wrong with the story at all, and I did enjoy it, but I just wanted a bit more.
Apparently I DID write a mini-review for this so I'm going to share my IG post here for a record. I don't know why I didn't do it before… or at least I think it's because I thought I was going to be able to write a full length review like normal. But alas, I think my mini review thoughts sum it up quite nicely.
This was such an intense book. I know that I had a hard time physically reading it ahead of time, and I resorted to listening to it so I could get through it, but that wasn't because of the content. If anything, I really enjoyed this story; like REALLY enjoyed this story, and I wanted to make sure I could enjoy it in the format that worked best for me. This was one of the best Romeo and Juliet retellings that I've ever come across, and quite frankly I prefer this a whole lot more to the original. Sorry Shakespeare. You can also tell that Gong ensured that we knew about the history about Shanghai during this time even if it was mixed up with the fantastical aspect of a monster in the river. The writing was pretty lyrical in a way that transported me into this world, and I just felt so immersed in this story. I personally don't know who I liked better – Juliette or Roma – but I could understand where both of them were coming from. This war basically tore their family apart and honestly I don't know if they will be able to break the cycle. I can't wait to read the sequel when it comes out! It's definitely going to have a pretty cray ending. Especially with what happened at the end of this one? Talk about a plot twist, and twist, and twist.
Yay for progress! I'm slowly getting through all of this catching up and all the progress that I'm making will help me get through my review list to be a manageable amount. Let's do it!