I was so freaking excited to get selected for this blog tour! I fell in love with de la Cruz from her Blue Blood series when I was younger, and I really want to read her Witches of East End series since it created such an amazing show (that was CANCELED way too early but whatever. I'm still bitter about it).
Anyway!
Click on the banner for the rest of the tour schedule, and for more tours coming down the pipeline from Fantastic Flying Book Club!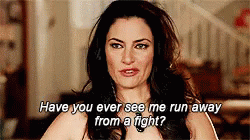 by Melissa de la Cruz
Publisher: G.P. Putnam's Sons
Release Date: February 4, 2020
Genre: YA Fantasy
Perfect for fans of Sarah J. Maas and Red Queen, this is the first novel in a sweeping YA fantasy-romance duet about a deadly assassin, his mysterious apprentice, and the country they are sworn to protect from #1 NYT bestselling author Melissa de la Cruz.
Caledon Holt is the Kingdom of Renovia's deadliest weapon. No one alive can best him in brawn or brains, which is why he's the Guild's most dangerous member and the Queen's one and only assassin. He's also bound to the Queen by an impossible vow–to find the missing Deian Scrolls, the fount of all magical history and knowledge, stolen years ago by a nefarious sect called the Aphrasians.
Shadow has been training all her life to follow in the footsteps of her mother and aunts–to become skilled enough to join the ranks of the Guild. Though magic has been forbidden since the Aphrasian uprising, Shadow has been learning to control her powers in secret, hoping that one day she'll become an assassin as feared and revered as Caledon Holt.
When a surprise attack brings Shadow and Cal together, they're forced to team up as assassin and apprentice to hunt down a new sinister threat to Renovia. But as Cal and Shadow grow closer, they'll uncover a shocking web of lies and secrets that may destroy everything they hold dear. With war on the horizon and true love at risk, they'll stop at nothing to protect each other and their kingdom in this stunning first novel in the Queen's Secret series.
Website | Goodreads | Twitter | Facebook | Instagram | Tumblr
Melissa de la Cruz is the New York Times and USA Today best-selling author of many critically acclaimed and award-winning novels for teens including The Au Pairs series, the Blue Bloods series, the Ashleys series, the Angels on Sunset Boulevard series and the semi-autobiographical novel Fresh off the Boat.
Her books for adults include the novel Cat's Meow, the anthology Girls Who Like Boys Who Like Boys and the tongue-in-chic handbooks How to Become Famous in Two Weeks or Less and The Fashionista Files: Adventures in Four-inch heels and Faux-Pas.
She has worked as a fashion and beauty editor and has written for many publications including The New York Times, Marie Claire, Harper's Bazaar, Glamour, Cosmopolitan, Allure, The San Francisco Chronicle, McSweeney's, Teen Vogue, CosmoGirl! and Seventeen. She has also appeared as an expert on fashion, trends and fame for CNN, E! and FoxNews.
Melissa grew up in Manila and moved to San Francisco with her family, where she graduated high school salutatorian from The Convent of the Sacred Heart. She majored in art history and English at Columbia University (and minored in nightclubs and shopping!).
She now divides her time between New York and Los Angeles, where she lives in the Hollywood Hills with her husband and daughter.
Disclaimer: I voluntarily read and reviewed an advanced copy of this book. All thoughts and opinions are my own. Thank you to Fantastic Flying Book Club, Netgalley, and G. P. Putnam's Sons for this free copy. All quotes in this review are taken from the Advanced Reader Copy and may change in final publication.
Oh my gosh. Shadow cracked me up so freaking much! I feel like she was the reason why I was hooked on this book, although I didn't even meet her until the first chapter.
Yes, there's a little bit of back history on what happened before the events of this novel, and then a prologue as well to explain what exactly would be the Queen's Assassin. I know I was curious until the prologue explained it and then I was like "well duh that makes sense." So anyway.
But yeah I was really happy to read something from de la Cruz again, and I'm actually regretting that I hadn't been keeping up with her work before this. I'll have to go back and see some other novels from her. And honestly we all know that I'm not good at keeping up with series in general… *ahem* so we'll have to see how long it would take me to even finish all of her series.
BUT ANYWAY. I'm sorry I keep going off on a tangent.
I really enjoyed this world that de la Cruz created, and I feel like her writing grew up with me and I can see me reading more of these older YA novels from her the more the years go by. Wow, that just makes me feel so dramatic but seriously. I have always loved de la Cruz, and I'm just so thankful that I was able to get to read this novel.
Oh, and I loved Cal also. I mean, yeah sure the first time we meet him is under some *ahem* extenuating circumstances but I was actually super excited to meet him that way. I feel like he's so… maybe honorable but also seems like he could do something pretty… I don't even know how to describe it. Like he would do just about anything to protect his realm, even if it wasn't something that was entirely "good".
I need the sequel to exist so I can take a year or something to read it and then see what happens next. Yes, I swear I'll end up reading it because I love Shadow and Cal. Literally making my night while I'm writing this review. This may be another favorite duo that I need to add to my list.
Yay for another playlist! Short and sweet, but still fun.
So I feel like I do better when there isn't an official dream cast that the author has in mind because I wouldn't want to ruin their vision of their story. But then it's also hard when there isn't an official dream cast because you have NO idea if you're even on the same wave length as them and you don't want to be looked at as dumb or anything. But I freaking love doing them.
Oh man I haven't done a double like this in a while. And it didn't help that for some reason, I couldn't focus on anything. But I finished this and I'm so glad that I did! I had a lot of fun with this, and I'm so glad that I got to read this one. I hope you enjoy this one as much as I do, and thank you again so much for having me on this tour!