Yay for my second tour with Silver Dagger Book Tours! So I don't know if you guys know, but I freaking love vampire novels. Sure I've only read a few and they were YA books except for one but I have been a vampire stan for a while. I just haven't picked a book that purposely involved vampires in a long time, until now! So, thank you so much to Silver Dagger for including me in this blog tour. Click on the banner for the full schedule and more information about the giveaway.
As vampires, the entire world is at our disposal. We're blessed with the one thing that others crave – immortality.
While life may be eternal, love doesn't come so easy.
In this anthology you'll go on various journeys with characters who are on their own paths to find their mate, something they crave more than anything else in this world.
***Immortal Lust features a collection of short stories from various authors who have written in time frames from the eighteenth century to modern times. Steam levels vary depending on author and story line.
Click on the banner for some of the author bios for the anthology! I couldn't figure out how to include the slideshow on here but Maia at Silver Daggers has a really great informational on the authors involved so go check it out.
Disclaimer: I voluntarily read and reviewed an advanced copy of this book. All thoughts and opinions are my own. Thank you to Silver Dagger Book Tours and Knox Publishing for this free copy. All quotes in this review are taken from the Advanced Reader Copy and may change in final publication.
Blood, Gore, Death, Violence
So of course, when you have vampire novels, you would have to watch out for any blood, gore, death, violence, stuff that vampires are supposed to be known for. While that content warning may seem a little redundant due to the anthology being about vampires, I feel like it should still be included just in case.
Now, I haven't had much experience with anthologies except for maybe one, and I liked it but felt like all of the stories left me hanging. Is that the goal? Possibly. With this anthology, I was so keen to find out what happened next with each story that I was left wanting more and didn't end up getting it. It pretty much killed me! In a good way though.
I felt like all of the stories in this novel really did a great job of opening up the vampire world beyond what's seen in the mainstream media. To me, vampires aren't always romantic tortured souls that are looking for a love to last them lifetimes. No. Vampires are lethal predators that will kill someone without hesitation or remorse, and those are the kinds of vampires I like to see. Sure, nothing is wrong with seeing vampires having a moral dilemma after living for centuries and questioning their life choices, but sometimes I just wanna see a vamp that gives no craps.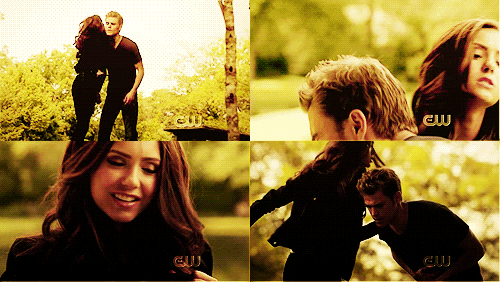 But there were also some aspects of the vampires that had some sort of humanity left in them, and sometimes that made them a little bit more… worthy of my love and attention. Or at least my sympathy. I don't know if I'm using the right word, but I feel like the authors that had vampires have some sort of humanity involved with them used it in a way that wasn't cliched, that wasn't overdone, and that made me care about them more than if they were just a lovesick puppy.
Are puppies even lovesick? Where did that phrase come from, anyway?
Don't ask me what my favorite was because I liked them all for their own reasons. I don't like picking an absolute favorite in an anthology (because I have experience with this, right?) and I clearly can't make a decision on that right now so ask me again in a couple weeks or so. I will say that I will have to check out more paranormal novels from these authors in the future because I liked what I read from them in this novel. Like I was saying before, by the time each story ended, I was feeling like a piece of me was missing and it needed to know how that story ended. It was great!
Okay but seriously Katerina Petrova is one of my favorite freaking vampires ever, and I was getting a few vibes like her from some of the characters in these stories. Do you like anthologies? Do you like vampires? Let me know, fam!