Yes, yes another contemporary romance novel coming from someone that doesn't always pick them! I picked this one though, and I'm pretty sure it was because of the flowers on the cover.
Just kidding.
Yes, I wanted to try this one out because I was curious, and I was surprisingly not disappointed! Thanks again to RockStar Book Tours for considering me for this tour, and I'm excited to work with you and Entangled Publishing! Click on the banner for tour details.
What's a Cinderella to do when she's accidentally kicked her Prince Charming in the face and broken his nose? Hold an audition, of course.
Harper Bailey is desperate to keep her family's amusement park business up and running, but her employees keep quitting, and the man playing prince to her Cinderella in the company's mainstage show is just the latest casualty. When sexy firefighter Rafferty Bradford, the most eligible bachelor in their small town, offers to step in, Harper agrees–reluctantly. After all, she and Rafferty are ex-best friends with a ton of past history. Surely they'll have zero chemistry onstage.
Rafferty has his own reasons for agreeing to play Prince Charming, and none of them are good. If Harper finds out the truth, it'll just reinforce every rumor she's believed over the years about Rafferty's bad rep. But when their chemistry explodes both onstage and off, he'll have to choose between happily-ever-after for himself…or the Cinderella he's fallen for.
Website | Twitter | Facebook | Goodreads | BookBub | Amazon
Sonya Weiss writes contemporary romance and young adult novels. She believes that every love story deserves a happy ending.
She's the author of several series including: Stealing the Heart, Fire and Sparks, Seduced by Love and the Tazavorn trilogy.
Sonya is represented by Eva Scalzo at the Speilburg Literary Agency.
Disclaimer: I voluntarily read and reviewed an advanced copy of this book. All thoughts and opinions are my own. Thank you to Rockstar Book Tours, Netgalley and Entangled Publishing for this free copy. All quotes in this review are taken from the Advanced Reader Copy and may change in final publication.
I'll be honest and say that I have once romanticized the idea of having a firefighter for a boyfriend or whatever. Why? I'm pretty sure it was because of stuff like this: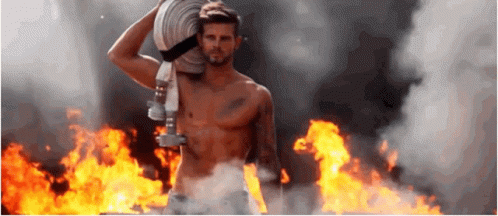 Okay maybe not but I mean the idea of having some hot ass dude with muscles to spare, in a uniform, saving cute little kittens from the top of a tree or whatever – NOT what real firefighters do all the time, mind you – is not just in my head. Clearly I've seen that idea around somewhere, and quite frankly I was curious to know if this novel was going to do something similar. Maybe I was just sooooooooo wanting to see what Weiss was going to do with that convoluted stereotype about firefighters and see if she was going to give it to us straight that I had to sign up and see if I would get picked.
I got picked.
And I was so impressed with the content that I am going to do my best to not romanticize firefighters anymore. I mean I don't even do that regularly, but you know what I mean.
Now the reason why the title is about both a firefighter AND a Cinderella is because our main guy is actually a firefighter with his brother, and the main girl has to play Cinderella at her family's theme park in order to save the park from closing down. So the title is simple but actually makes sense and gives you an idea of what exactly the romance is going to involve. Sure, the title doesn't tell you the backstory of the two – that they were actually childhood friends and ended their friendship in one of the worst ways – but it's still one that makes you wonder how the heck Cinderella is going to be involved in this.
At least, that's what it did for me.
Then there's this image of firefighters, where they are just the wholesome and loving and caring branch of law enforcement… is that the right term? Emergency response team? Well they are more loved than the police is the vibe I get when I compare what I see between the two. And yes, Weiss totally showed this side with our most eligible bachelor Rafferty and his grandma. It was adorable, honestly, and I was really surprised and happy that I got to see that side of him. It didn't seem like it was only for show, you know?
Plus look at this:
Yes, this is basic human decency and shouldn't be applauded as "being amazing" or whatever, but this was so refreshing to see a main character, a guy no less, know what's up. So yeah, it's basic as hell, but I'm still proud of him.
Clearly I was focused more on the firefighter thing of the book than the whole other part of the plot, meaning Harper and Rafferty having to show some sort of on-stage chemistry to make the show a success. That's my bad. But at least I enjoyed these little aspects of the book enough to keep going, which made me okay with seeing the "friends turned enemies turned on-stage lovers turned whatever they have to be" relationship take place throughout the novel. I think I was too heartbroken that they ended their friendship in such bad terms that I didn't want to see either of them hurt the other again. It was just too much.
And yes, that is a trope.
I just invented it.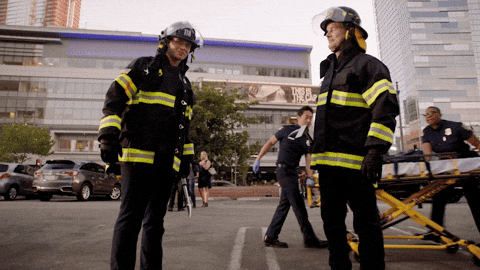 But in all honesty, let's give it up to the real firefighters out there that risk their lives whenever they have to go on call. Have you ever wanted to be a firefighter when you were a kid? Do you know any in person? What are your thoughts on this stigma of firefighters being eye candy? Let me know, fam!