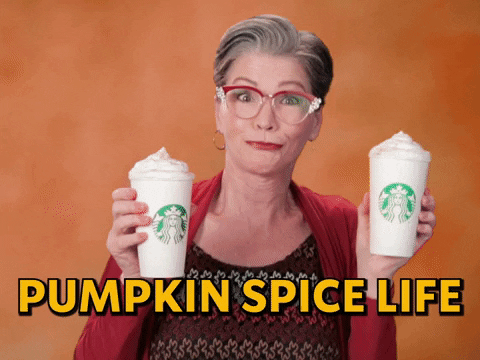 Thank you to Sam @ Fictionally Sam and Clo @ Cuppa Clo for hosting this year's Bookending Autumn 2019 series! Click on the Bookending Fall Icon to see the announcement page.
Today's prompt is hosted by Meeghan @ Meeghan Reads! 🥰
Autumn is when the beverage names at the local coffee shop start to look more like a harvest produce list than anything from a drinks menu. What better way to celebrate this oddity than to do an autumnal drinks book tag?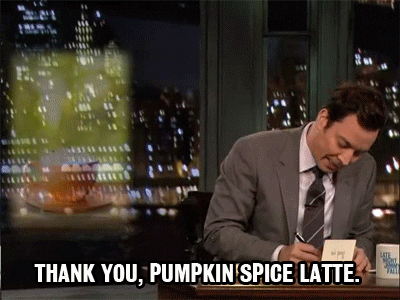 Tis the season for some pumpkin spice in our lives, fam! I've never done this tag before, and I think I'm going to have to actually find it so I can do this post ahead of time, so lemme find it!
I'm also so extra and made the graphics for my post because I think I'm hot shit, like Pumpkin Spice Lattes. Holla.
Rules:
Link back to the original post (hint, it's this one!)
Thank the person who tagged you
Do the prompts below
Tag some friends
Most importantly – have fun!
(I'm a Ravenclaw, ok? As if 'rules' wouldn't be a thing!)
Honestly, I didn't think I would love Evelyn Hugo because EVERYONE AND THEIR PET was talking about how great it was and I don't get hyped up as much about books anymore. Like, I refuse to watch Frozen because it was overhyped for years and it just didn't appeal to me anymore. I didn't want it to be like that, but then I did end up loving it so that was perfect.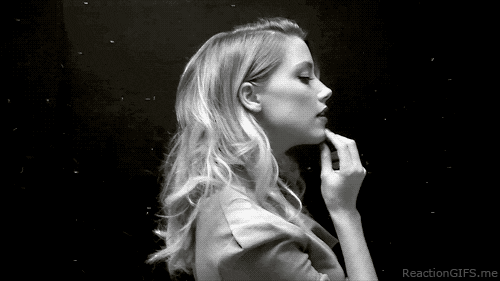 Oh buddy! I was not expecting it to get so graphic and hot and I low key kept telling my husband why wouldn't he be like Michael and I don't think he liked being compared to a fictional character but whatever. I do what I want.
I think I even mentioned this book feeling like a warm hug before because it was just so heartwarming and nice and even though there was some rough parts in there that broke me, the ending was so picture perfect but felt right.
It was hard to get into because of all the abuse and terrible things that Circe went through at the hands of those that were considered her family members, and complete strangers. Like, leave my girl alone damn.
Isobel was kind of vanilla, although it wasn't her fault. The best thing about her was that she was a painter, but that's not a character trait, you know? She did stand up for herself and make sure to protect the family that she had, but sometimes I felt like it wasn't enough I guess. Not her fault though.
This book was so haunting and magical and I loved it. From beginning to end, I just felt so captured by this story and I didn't have any problems falling in love with it. It really was a fairy tale for me, and being immersed in it was amazing.
Nedra didn't start off icy cold, but boy by the time the ending came around, you understood why she got icy. I wouldn't have blamed her. I would have done the same, maybe even earlier than she did. She's a fighter, and nobody should be messing with her. Seriously.
DON'T EVEN GET ME FREAKING STARTED.
While I didn't have the pleasure of fully knowing how Dayton was when she was alive, when she was dead, she was the sweetest person in this entire book. I absolutely adored her! Like wow, talk about character growth. I wish she wasn't dead but now she can be at peace.
I'd take both Lingyi and Iris home because they are the cutest ever and I just love sapphic love. Like look at this! They are so cute, and beautiful, and tough, and smart, and ugh I can't stop fangirling over them.
This one was so much fun! And do you know how much fast I had to do this one because I only saw it come up around 9:30am and of course I wanted to make my own graphics for it to make it pretty like I couldn't have just been normal about it and noooooooo.
BUT I finished just in time so yay me!