This week's WWW Wednesday is brought to you by Taking On a World of Words! Go check her out and join in on this fun. The three most important questions of the day are…
What are you currently reading?
What did you recently finish reading?
What do you think you will read next?
Eldest – Christopher Paolini – 31%
The Bear and the Nightingale – Katherine Arden – 23%
Death by Diploma – Kelley Kaye (ARC Review) – 0%
Highest priority is to get that ARC done so I can get more from BookSiren! When you first sign up and get approved for BookSiren, they only allow you to get one book and review that before you overload yourself. Smart move. Glad I picked a cozy mystery to start off with.
---
Now if only I could read three ARCs a week without requesting more (or getting approved for more), then maybe I'll actually get a handle on my list!
---
Notice how I took off that Colleen Hoover book? Yeah I think I may need to take off The Silent Patient next week if I don't get to it. I will eventually, but not in time for book club. There's another book that I really do need to read for a different book club though, since it's hard enough to get into any meetings. Maybe that should have been on my list. Ahh, next week.
---
I think this post is fun. I think I have great goals, that I'll eventually achieve. A goal that I did meet recently was my Goodreads 2019 Challenge though! I pledged 30 books this year, and I just hit 31! Yay me! I don't think I'm going to increase it yet, until I see if I can keep this momentum up, but hey, when I first started, I didn't think I'd get that far.
One another note, do you think I'll ever get to read The Silent Patient, or is that just going to be a place holder until I eventually take it off my list. I think I need encouragement. Or motivation. Like a potential buddy read for that book so it forces me to get it over with. Who knows?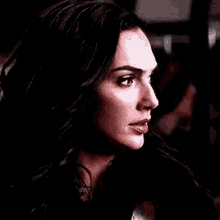 This is my alter ego telling me to get my act together because the year is halfway over! We got this. What's on your list? Comment your links so I can check yours out as well! As you can probably see, I love writing on this blog, and I love having discussion with other bloggers. I think it makes my heart go pitter patter. No big. Until next time!