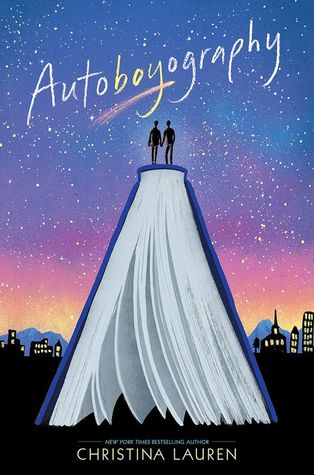 Title: Autoboyography
Author: Christina Lauren
Genre: YA Contemporary / LGBT
Format: Audiobook
Length: 9 hours, 20 mins
Narrated By: Deacon Lee, Kyle Mason
Publisher: Simon & Schuster Books for Young Readers
Publish Date: September 12, 2017
Rating: ★  ★  ★  ★ 
Recommend: Yes!
I'm so glad that I got to read this book in honor of Pride month, and I know this book came out two years ago so I'm sorry this is taking forever to get on my radar. I got to do a speedy buddy read with Brittany and it was an awesome time. Stay tuned for the Buddy Read Discussion post later on!
First, I really did like this book, and one of my favorite parts of this book was how supportive Tanner's family was on his sexuality. Tanner is bisexual, and while his parents found out through unconventional means, they have done everything to make sure that he knows that they will never be ashamed of him for who he loves, and will never ever make him feel like he needs to hide himself.
Of course, that was before they had to make a move to Provo, UT, where it's pretty much an – in the words of Tanner – "LDS infested town" where he is temporarily back in the closet. For someone that was already out, to have to go back in due to moving just sounds like a terrible thing to go through. Luckily at home, he doesn't have to hide. Everything around the house basically reinforces what his parents told him when they first found out, so that's his one safe haven in all of Provo. Even his best friend in Provo doesn't know about his sexuality, and what may or may not make it worse is that she has revealed that she has feelings for him.
Enter Sebastian, who is the Bishop's son and became an overnight celebrity due to the fantasy book that he wrote in "The Seminar", a prestigious and intensive writing class in their school where the only assignment is to write a book and turn it in to Mr. Fujita. That was the class that enabled Sebastian to write his book, and he was able to sell it to a publisher that made it gain national notoriety. While Tanner took this class as an almost dare from his best friend Autumn, he was NOT expecting to fall in love with Sebastian Brother, who just so happened to be assisting this year's class for Mr. Fujita.
I thoroughly enjoyed this book, and I liked learning more about Tanner and seeing him fall in love with someone that he deems unattainable. I liked seeing that Tanner was sure of himself, and knew what he wanted, even though he had some angst about liking the Bishop's son in an LDS town. I liked the fact that Christina Lauren made sure to not paint the Mormon religion in a completely negative light, while still staying to true to what is known about their religion. I just really liked this book.