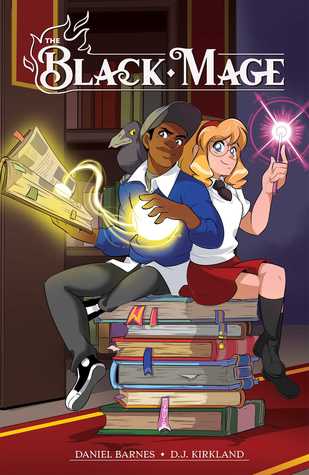 Title: The Black Mage
Author: Daniel Barnes
Genre: YA Graphic Novel
Format: eBook (ARC)
Length: 153 pages
Publisher: Oni Press
Publish Date: August 13, 2019
Rating: ★ ★ ★ ★ ★
Recommend: Heck Yes!
Disclaimer: I received a copy of this book from Netgalley in exchange for an honest review.
Listennnnnnnn…
This is the first time I've reviewed a graphic novel ARC, and I don't know why I never thought to do it before. I need to do this more often because it was an awesome quick read with amazing graphics (shout out to Illustrator DJ Kirkland for the work) and a nice break from all the long novels I've been reading back to back.
But on to the actual review…
LISTENNNNNNNNNNNN
Total shout out to Daniel Barnes for having this graphic novel have no qualms about talking about the Klan and all that. Like, literally the "reason" why Tom Token (get it? "Token" black guy?) is even accepted into this school is through their "Magical Minority Initiative". Like that's gotta be a load of crap right? How is Tom the first ever black student in the era of freaking cellphones? It looks like he had an iPhone too but that's besides the point. There's no way.
Then you have people asking if black mages restore their mana by drinking damn grape juice. Stereotypes at its freaking finest.
What really sold me immediately was seeing Harriet Tubman and Frederick Douglass about to get into a fight with some of the Klansman in the past. Like yes, Harriet Tubman and Frederick Douglass are a couple of bad ass historical figures, and with magic that we had no clue about?
Sign me the heck up!
This seemed to have ended as a standalone, but I could see the potential for more issues. I hope there's at least another one – well let's be honest, I hope this becomes an actual series. You just have to read this. Like, go download it from Netgalley and read and review it. Or you can be like me and get the paperback copy when it comes out later this year. But I can't even imagine waiting that long!