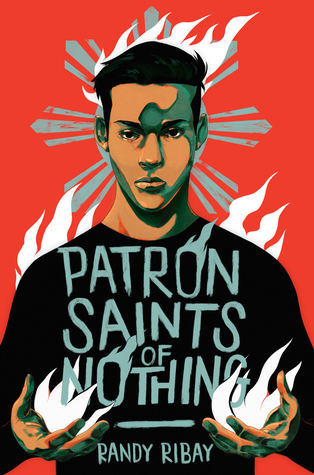 Title: Patron Saints of Nothing
Author: Randy Ribay
Genre: Young Adult Contemporary
Format: eBook (ARC)
Length: 352 pages
Publisher: Kokila
Publish Date: June 18, 2019
Rating: ★ ★ ★
Recommend: Yes
Disclaimer: I received a copy of this sneak peek from Netgalley in exchange for an honest review.
First, I'm glad I got to take a sneak peek of this new book coming out this month to give me a better idea on if I wanted to read it. So far, I will say that I do want to read a little bit more to find out the truth about Jun and the corruption facing the Philippines in this novel, but that's part of the reason why I don't want to finish reading it.
Let me explain.
I may not have any Filipino heritage in me, but I have a lot of friends that I grew up with that do, and hearing about this kind of mentality in the Philippines when it comes to drugs breaks my heart. There are also something things in the Filipino culture that are similar to my culture (Chamorro) so for some reason when I hear Jay talking about his family back in the Philippines and some of the customs he got to experience made me think about my family back in Guam. Nothing extreme like what was in this sneak peek, but definitely some that I could relate to.
I think also a part of me was really upset with how Jay's sister Em reacted to the news he told her about their cousin Jun, and how she seemed not to care. Family is supposed to be one of the most important things in the Filipino culture, and for her to react that way makes me think about those comments I've always heard about Filipinos from the Philippines being culturally different from American Filipinos. It's similar to what they say in Guam about Chamorros born and raised on Guam compared to American Chamorros. It's like we lost a sense of family, and to me that's not okay.
However, more on the book. This sneak peek that I received was just that. A sneak peek that didn't get to go too much into the meat of the book for me to really make a sound judgment on my thoughts. I think it was off to a great start, and while it ended in such a weird spot for me, I do think my thoughts and rating may change if I get the opportunity to finish the rest of the book. Jay is definitely not the typical male protagonist that I'm used to reading about – since most of my genres with male protagonists have some fantasy aspect to it – so reading about a regular high school guy trying to find out what happened to his cousin in a modern world was different.
I think also my favorite part was how the author really made a character that I could relate to, someone who is of mixed race that feels like he doesn't really know half of who he is. In the part of the book that I read, he doesn't know certain Filipino words, only vaguely remembers them from past years. (Funny thing is that I actually knew what balikbayan was when Jay himself didn't, so go me!) Also reading a little more about the author tells me that he may have written some of himself into Jay, so that's exciting as well.
All in all, I give this a neutral rating so that it gives me some flexibility to change it in the future and review it after reading the entire book.