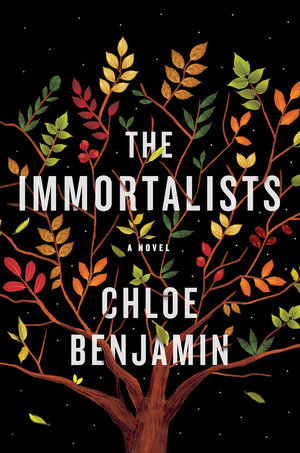 If you knew the date of your death, how would you live your life?

It's 1969 in New York City's Lower East Side, and word has spread of the arrival of a mystical woman, a traveling psychic who claims to be able to tell anyone the day they will die. The Gold children—four adolescents on the cusp of self-awareness—sneak out to hear their fortunes.

The prophecies inform their next five decades. Golden-boy Simon escapes to the West Coast, searching for love in '80s San Francisco; dreamy Klara becomes a Las Vegas magician, obsessed with blurring reality and fantasy; eldest son Daniel seeks security as an army doctor post-9/11; and bookish Varya throws herself into longevity research, where she tests the boundary between science and immortality.

A sweeping novel of remarkable ambition and depth, The Immortalists probes the line between destiny and choice, reality and illusion, this world and the next. It is a deeply moving testament to the power of story, the nature of belief, and the unrelenting pull of familial bonds.

Book Overview:

Author: Chloe Benjamin | Series: None | Format: Audiobook | Narrated By: Maggie Hoffman | Length: 11 hours and 30 minutes | Publish Date: January 9, 2018 | Genre: Contemporary & Historical Fiction | Literary Awards: Goodreads Choice Award Nominee for Historical Fiction (2018) | Rating: ★ ★ ★ ★  | Recommend: Yes



"The cost of loneliness is high, she knows, but the cost of loss is higher."

It took me about a year or so to read this book in its entirety. I know when I first started it, I wasn't sure if I liked it. I didn't even finish the first part of the book when I first stopped. Luckily, the Libby app keeps your place if you reborrow a book that you didn't finish the first time around.

Apparently I was actually done with the first part, and didn't realize it until it switched POVs to Klara, so that tells you how much I wasn't paying attention to Simon's story. I'm sorry, Simon.

Each sibling had their own journey through life that was as different as their personalities. Since the premise of the book is about the Gold children learning from a psychic the exact date that they die, you know that they are going to die in this book. Not so much of a spoiler, but that's not what we really want to know throughout this book. What made this story interesting was how they lived their lives after knowing when they would die – which just so happens to be the question the synopsis asks you as a reader. Makes sense that the book would try to answer that question in the guise of the Golds.

I honestly felt like each of their stories were heartbreaking for me, but Klara's the most. I felt for her, and I related to her in a way that was almost scary to me. From the way her husband made her feel until the very end of her story, I just felt like I was reading about myself from another person's perspective. Each of the Gold children had the knowledge of knowing their death date affect them in totally different ways. Some felt like they wanted to ignore it, chose not to believe the lies from a gypsy woman that probably meant to scare them. Others tried to do everything they could to not let that future come to pass, but none of them could stop it. And really, do you really want to try to stop death from happening? The one natural thing that all living beings must go through?

The more I think about this book, the more I feel like it was one that I needed to read. I think this story may stick with me for a while, or I may think about it when I least expect it. I mean, I can't get enough of that cover to begin with, so that may be what I see when I reminisce about this book. This was the first time I read anything from Chloe Benjamin, and I think she did an amazing job.