From the author of the popular Weather Warden series comes the debut of an exciting new series set in Morganville, Texas, where you would be well advised to avoid being out after dark.

College freshman Claire Danvers has had enough of her nightmarish dorm situation. When Claire heads off-campus, the imposing old house where she finds a room may not be much better. Her new roommates don't show many signs of life, but they'll have Claire's back when the town's deepest secrets come crawling out, hungry for fresh blood. Will she be able to face the town's terror or will she drown like everyone else?

Book Overview:

Author: Rachel Caine | Series: The Morganville Vampires | Format: Audiobook | Narrated by: Cynthia Holloway | Length: 8 hours, 30 mins | Publish Date: October 3, 2006 | Genre: YA Paranormal | Rated: ★ ★ ★ | Recommend: Maybe



"Run first,' Shane said. 'Mourn later.'It was the perfect motto for Morganville." 


I'm a sucker for vampire books, let me just get that out of the way.

I always enjoy it when I find another good vampire series to read and fall in love with. Some of my absolute favorites are the Vampire Academy series by Richelle Mead and the House of Night series by mother/daughter duo PC and Kristin Cast. If you haven't had a chance to read those yet, I highly recommend them. I plan on doing a reread and writing my reviews on here when I get to them.

So anyway, back to this series.

I can't really call it "new" when the first book was published in 2006, but it's new to me. I haven't really heard much about it growing up, and I never came across the book in the library before now. I'm so lucky that my new local library has the entire series on audiobook since they don't have all the books in physical copies for me to read. That at least gives me a chance to make some progress on them.

This was a good start to the series. It wasn't amazing. It didn't blow my mind or have me wanting more immediately, but I enjoyed it. The idea of an entire town being controlled by vampires without the rest of the country knowing is actually pretty terrifying. All Claire Danvers wanted to do was go to college and have a little sense of independence since her parents refuse to let her go to a school that's actually worth her time.

It's not like she wanted to worry about mean girls trying to kill her, and the entire vampire population thing going on. She just wanted to get her sixteen and a half-year-old self into school so she could transfer to one of her dream schools in about two years.

Honestly, the best part of this book so far is the snark between the main characters.

Exhibit A:

"The second bathroom's downstairs – that's kind of the emergency backup bathroom when Shane's in there moussing his hair for like an hour or something….""Bite me!" Shane yelled from behind the closed door." 
That's what got me through this book without giving up completely. But I didn't write the entire series off, so there's gotta be something I'm enjoying, right? Okay, I give. It's Shane and Michael. And Eve. They are my favorites. Precious people that only want to protect Claire and her innocent little self from making terrible mistakes. We need more people like Eve, Michael, and Shane in the world.

That's really it, honestly. Like I said, it was a good start, so I'm hoping it gets better.


Author Spotlight
Courtesy of Goodreads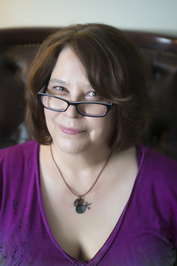 Born: in the United States
Genre: Thriller, Young Adult, Urban Fantasy
Goodreads Member Since: June 2013