Ella is a girl with a most unusual gift, and her story has charmed readers and critics alike. Now Miramax Films brings this wholly original Cinderella story to the silver screen, complete with princes, ogres, wicked stepsisters, and a fairy-tale ending fit for a princess.

Book Overview:

Author: Gail Carson Levine | Series: None | Format: Audiobook | Narrated by: Eden Riegel | Length: 5 hours, 42 mins | Publish Date: September 1, 1997 | Genre: YA Fantasy | Literary Awards: Newbery Honor (1998), Mythopoeic Fantasy Award Nominee for Children's Literature (1999), Rebecca Caudill Young Reader's Book Award (2000), Grand Canyon Reader Award for Teen Book (1999), Maryland Black-Eyed Susan Book Award for Grade 6-9 (2000)
Dorothy Canfield Fisher Children's Book Award (1999), Iowa Teen Award (2000) | Rating: ★ ★ ★ | Recommend: Yes



"It is helpful to know the proper way to behave, so one can decide whether or not to be proper." 

Can you believe that this was the first ever time that I've read this book? I never heard about it when I was a little girl, so it was never one of those childhood favorites that I wanted to come back to after I grew up. This was a very first for me, and while it definitely wasn't one of my favorites, it was still a cute story.

The main thing that I enjoyed about this book was the twist on Cinderella. How horrible would it have been if Cinderella didn't have a choice in her upbringing? All of the treatment she endured by her stepmother and stepsisters was terrible in and of itself, but what if she was physically forced to obey them due to a fairy's curse? This is what Ella Enchanted brought to Cinderella's story, and it made the story that much better.

That was probably the only part of the story that I liked, unfortunately. As I was going through this book, I couldn't really enjoy it as much as I wanted to. There wasn't really anything special about it that made me want to read it again, or add it to my collection. Sure, the curse made things more interesting, but it also made her family that much worse. Not to mention her father was a complete jerk, who didn't even love her the way a father should. How could he allow her to be put into such awful situations and not care about what's happening to her?

No, Ella's father was total tool and I did not like him at all.

This book was okay, and it gave me another movie to watch for another Book vs. Movie showdown. Other than that, It just wasn't memorable to me. Although I am glad I had the opportunity to read this childhood book for the first time.


Author Spotlight
Courtesy of Goodreads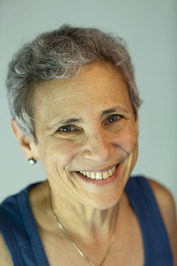 Born: In New York, New York, The United States
Genre: Children's Books, Science Fiction & Fantasy, Young Adult
Goodreads Member Since: August 2012
Just letting you all know: I'm only going to review books I love. There's enough negative criticism without me piling on. A book is too hard to write.
Gail Carson Levine grew up in New York City and began writing seriously in 1987. Her first book for children, Ella Enchanted, was a 1998 Newbery Honor Book. Levine's other books include Fairest; Dave at Night, an ALA Notable Book and Best Book for Young Adults; The Wish; The Two Princesses of Bamarre; and the six Princess Tales books. She is also the author of the nonfiction book Writing Magic: Creating Stories That Fly and the picture book Betsy Who Cried Wolf, illustrated by Scott Nash. Gail, her husband, David, and their Airedale, Baxter, live in a 1790 farmhouse in the Hudson River Valley of New York State.