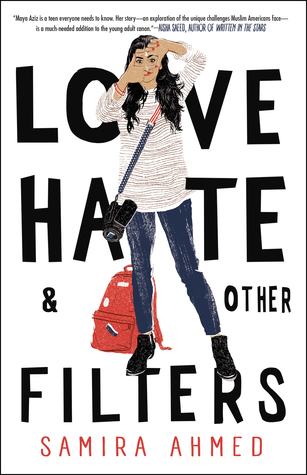 A searing #OwnVoices coming-of-age debut in which an Indian-American Muslim teen confronts Islamophobia and a reality she can neither explain nor escape–perfect for fans of Angie Thomas, Jacqueline Woodson, and Adam Silvera.
American-born seventeen-year-old Maya Aziz is torn between worlds. There's the proper one her parents expect for their good Indian daughter: attending a college close to their suburban Chicago home, and being paired off with an older Muslim boy her mom deems "suitable." And then there is the world of her dreams: going to film school and living in New York City—and maybe (just maybe) pursuing a boy she's known from afar since grade school, a boy who's finally falling into her orbit at school.
There's also the real world, beyond Maya's control. In the aftermath of a horrific crime perpetrated hundreds of miles away, her life is turned upside down. The community she's known since birth becomes unrecognizable; neighbors and classmates alike are consumed with fear, bigotry, and hatred. Ultimately, Maya must find the strength within to determine where she truly belongs. 

Book Overview:

Author: Samira Ahmed | Series: None | Format: Hardcover | Length: 281 pages | Publish Date: January 16, 2018 | Rating: ★ ★ ★ ★ ★ | Recommend: Yes


"These terrorists are the antithesis of Islam. They're not Muslim. Violence has no place in religion, and the terrorists are responsible for their own crimes, not the religion and not us." 

This is probably the first #OwnVoices book that I've read – unless you include The Hate U Give by Angie Thomas, then it would be the second – and I have made it my mission to read more of these books.

I hurt when I read this book. I hurt when I witness anyone being treated like crap for something utterly ridiculous. Whether it's their skin color, their religion, their physical appearance, or even any disabilities, people do not deserve to be treated like a second class person because of it. Islamophobia is a real problem here in the United States, and this book showed what the aftermaths could be if a terrorist was assumed to be Muslim.


"It's selfish and horrible, but in this terrible moment, all I want is to be a plain old American teenager. Who can simply mourn without fear. Who doesn't share last names with a suicide bomber. Who goes to dances and can talk to her parents about anything and can walk around without always being anxious. And who isn't a presumed terrorist first and an American second." 

Maya is the only brown girl at her school, and I know exactly how that feels. She is the only Indian Muslim girl at her high school, and while the majority of her classmates treat her with respect and enjoy her, there is one boy that is so full of hate whenever he sees her. He has even referred to her as the "help" in a local bookstore, completely disregarding her presence when she is standing right in front of him. He gets worse, and there is no evidence that he even gets better. It's the kind of pure hate that this boy shows towards Maya, who has never done anything in her life to give him a reason to treat her this way, that hurts my heart.

All Maya wants to do is going to NYU to study film. She's always carrying her camera around, her friends knowing when to get in their "acting poses" and when it's just a time to be normal. She's really good at what she does, and yet to her family, it's just a "wonderful hobby". Her parents do not see her dream as anything more than that. They would rather her stay close to home, go to school to become a lawyer and marry a suitable Indian, Muslim boy like they do in India. To them, anything less would make her less than a good Indian daughter, and they have commented on more than one occasion that they should have sent her to boarding school in India so she would have grown up to be a good daughter. It's hard enough that being an Indian Muslim girl subjects her to racism and hate, but how can she break out of her shell and follow her dreams when her parents don't understand?

I really enjoyed this book, and I felt that it was an important one to read if you have never experienced hate in this capacity. There was love in the book, between Maya and two boys in her life that represented the two paths she had in front of her. There was hate in the book, enough hate that Maya and her family were physically affected and traumatized. But there was good in this book too, and I am so glad that I picked it up to read and cherish forever.


Goodreads Member Since: February 2016