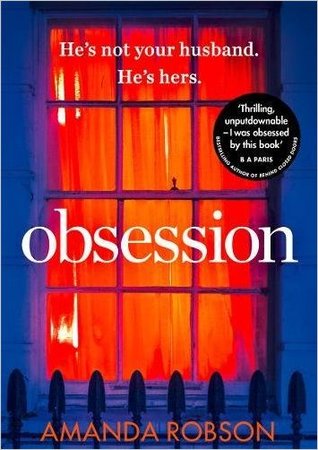 One evening, a wife asks her husband a question: who else would you go for, if you could?
It is a simple question – a little game – that will destroy her life.
Carly and Rob are a perfect couple. They share happy lives with their children and their close friends Craig and Jenny. They're lucky. But beneath the surface, no relationship is simple: can another woman's husband and another man's wife ever just be good friends?
Little by little, Carly's question sends her life spiralling out of control, as she begins to doubt everything she thought was true. Who can she trust? The man she has promised to stick by forever, or the best friend she has known for years? And is Carly being entirely honest with either of them?
Author: Amanda Robson | Series: None | Format: Audiobook | Narrated by: Thomas Judd, Stephanie Racine, Rich Keeble, Helen Keeley | Length: 10 hours, 55 mins | Publish Date: June 1, 2017 | Genre: Psychological Thriller | Rating: 

★ 

★ 

★

 | Recommend: Maybe
"He pants my name at the moment he climaxes. He pants my name in his sleep."
I read this book for my book club, Bookish Babes of Norfolk. If you guys are living in Norfolk, VA and are looking for a club to join, I recommend them.
After saying all that, I honestly don't think this is a book I would have ever picked up. I was listening to it at work, and within the first few chapters, there's a sex scene that I wasn't expecting. Call me a prude or whatever, I don't really care. But I personally do not like reading about sex in books. To me, it doesn't add to the story, and I don't need to hear about all the blowjobs and climaxes happening behind closed doors. But in this case, the sex scenes did add to the story because of what the book was about.
So this story – and every single terrible thing in this story – happened because one of the main characters Carly asked her husband Rob a question: if he could have sex with anyone else but her, who would he choose?
Well, Rob made the critical mistake of saying Carly's best friend Jenni. And that's when "shit hit the fan".
The drama between these two couples: Carly and Rob, and Jenni and Craig, is absolutely ridiculous. I understand that Carly has been made to have depression and paranoia, but I'm curious as to why Jenni was never diagnosed with anything. These women were pretty ruthless towards one another, and their husbands were complete idiots. I pretty much hated every single character in this book, with the exception of the children. They didn't do anything. Once again, only the children are innocent in a book like this.
Also, while reading this book, I didn't really see how it was considered a psychological thriller until more than halfway through the book. Even then, I wouldn't have labeled it a thriller. It didn't keep me on the edge of my seat like The Couple Next Door. It didn't make me want to know how the ending would play out. I just knew who I hated, and I didn't care what happened to them. They were stupid, and they purposely did stupid things and had the audacity to not understand why things were starting to go wrong.
I also had a question about Rob's integrity as a narrator. There were times where his narration would continue right after Jenni, or right after Carly, and the differences between his recollection and the women's was almost startling. I feel like he lied about a lot of things, and he just was not a good person, to begin with. Both Rob and Jenni claimed to be religious people, and yet their actions were anything but holy. At least Craig and Carly owned their actions and didn't try to hide behind God or anything else.
Stay tuned for an Author Spotlight in the future!