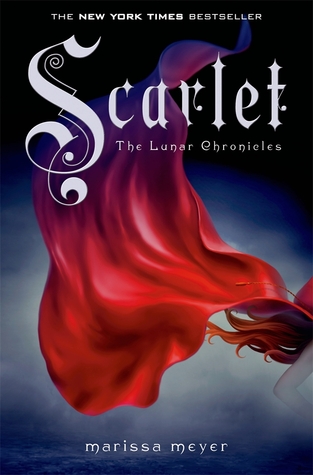 Cinder, the cyborg mechanic, returns in the second thrilling installment of the bestselling Lunar Chronicles. She's trying to break out of prison—even though if she succeeds, she'll be the Commonwealth's most wanted fugitive. 

Halfway around the world, Scarlet Benoit's grandmother is missing. When Scarlet encounters Wolf, a street fighter who may have information as to her grandmother's whereabouts, she is loath to trust this stranger, but is inexplicably drawn to him, and he to her. As Scarlet and Wolf unravel one mystery, they encounter another when they meet Cinder. Now, all of them must stay one step ahead of the vicious Lunar Queen Levana, who will do anything for the handsome Prince Kai to become her husband, her king, her prisoner.

Book Overview:

Author: Marissa Meyer | Series: The Lunar Chronicles | Format: Audiobook | Narrated by: Rebecca Soler | Length: 11 hours, 19 minutes | Publish Date: February 5, 2013 | Genre: YA Fantasy/Science Fiction | Literary Awards: Goodreads Choice Award Nominee for Best Young Adult Fantasy & Science Fiction (2013), Premio El Templo de las Mil Puertas Nominee for Mejor novela extranjera perteneciente a saga (2013) | Rating: ★ ★ ★ ★ ★ | Recommend: HECK YES


"A relieved grin filled up Thorne's face. "We're having another moment, aren't we?"
"If by a moment, you mean me not wanting to strangle you for the first time since we met, then I guess we are." 

This series honestly just keeps getting better and better, doesn't it?!

We continue on with Cinder's story, with her breaking out of prison in order to escape certain death from the evil Queen Levana. She somehow gets stuck with "Captain" Thorne, a criminal sentenced to six years in prison in New Beijing, who has a spaceship that sends them off to Europe. Why Europe? Well, with Cinder's revelation in the previous book (spoiler alert, I'm not going to tell you!), she thinks she can find the answers she's looking for by searching for a woman named Michelle Benoit.


"He gaped at the controls. "Why is my ship talking back to me?" 

Now we don't just follow Cinder's story in this book.

In the meantime, we meet a girl named Scarlet Benoit (hmmm…. relation to Michelle, maybe?) who has been trying to find information on her missing grandmother. She believes that her grandmother was kidnapped since it is not like her grandmother to disappear without saying anything. From there, she meets a mysterious fighter named "Wolf", who has information on where Scarlet's grandmother is and why she was taken in the first place. From their tiny village of Rieux, they travel to Paris to find out what secret Scarlet's grandmother is hiding and try to rescue her from her kidnappers.

In Paris is where our two heroines meet one another, and that's when things get extremely interesting.

I love Cinder with all my heart, but I have to say that I love Scarlet too. From her French accent, and her fierce loyalty to her grandmother, she is a stubborn, hardheaded girl that will stop at nothing to rescue her grandmother. Even when the police tell her that the missing person's case is closed because there is no evidence of foul play, she doesn't allow that to deter her from trying to figure out what's going on. Her adventure with Wolf is filled with danger and excitement, as they go across the country and find out exactly how dangerous Queen Levana really is.

Not to mention, back in New Beijing, Emperor Kai is still having to deal with the fallout of Cinder's incident at the Royal Ball and keeping Queen Levana's wrath at bay. Will he be able to hold his own against the Lunar Queen? Or will Earth be attacked and go to war against Luna?

I can't wait to find out what happens in the next two books! The story is just so intense and I constantly get lost in this world and I just want Queen Levana to lose this battle!  Also, Kai, you are irritating me right now and you need to get better. Here comes Cress!


Don't forget to check out Marissa Meyer's Author Spotlight here!